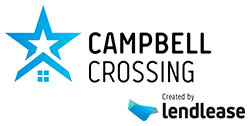 Fort Campbell, KY – Campbell Crossing, the on-post housing community located on Fort Campbell, is now welcoming members of the National Guard and reserves to enjoy the comfort and convenience of on-post living.
Residents enjoy spacious two, three and four-bedroom homes, pet-friendly communities, 24-hour emergency maintenance, trash and recycling pick-up, community center amenities including fitness centers and more!
"At Campbell Crossing we strive to make our residents and their families feel at home by providing quality, comfortable homes in a friendly community," said John Bredehoeft, project director for Campbell Crossing. "Our top priority will always be taking care of service members and families here at Fort Campbell, and we are equally excited to welcome this new category of renters to make their home with us."
Select homes start at $900.00 a month with basic utilities included, and short-term leases available. Additionally, Campbell Crossing is open to active duty military, single and geographic bachelors, Department of Defense employees and contractors, and military retirees.
For more information on how to apply, view floor plans and photos, please visit www.campbellcrossingllc.com
To schedule a tour, call 888.860.6847, or visit the leasing office at 850 Georgia Avenue, Fort Campbell, KY 42223.
About Campbell Crossing
Campbell Crossing LLC, the partnership between developer Lendlease and the Department of the Army, is the premier housing community for the Soldiers and families of the 101st Airborne Division (Air Assault) and home to the first zero-energy homes project ever constructed on a military installation. Lendlease took over operations of Fort Campbell's on-post housing in 2003 as part of the Military Housing Privatization Initiative (MHPI), a program aimed at improving the quality of life for Soldiers and their families.
Since then, the Community has received numerous recognitions, including the Army's 2012 RCI Project of the Year, National Association of Home Builders (NAHB) National Green Building Award and the National Council for Public-Private Partnerships Innovation Award. Lendlease will own, manage, renovate, develop, and sustain the homes of Campbell Crossing until 2053.
For more information visit www.campbellcrossingllc.com