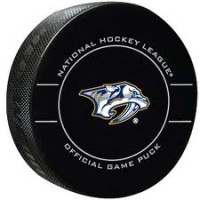 Clarksville, TN – The Nashville Predators defeated the Colorado Avalanche 4-3, sweeping their four game road trip and tieing the team's record for consecutive wins at 8.
Ryan Ellis tied the game at 3-3 with just over one minute remaining in regulation, then Filip Forsberg scored the game winner in overtime to give Nashville the victory.
The Predators scored first at 3:09 of the first period when Austin Watson netted a wrist shot for the 1-0 lead. Watson was assisted by Colton Sissons and Mattias Ekholm on the play.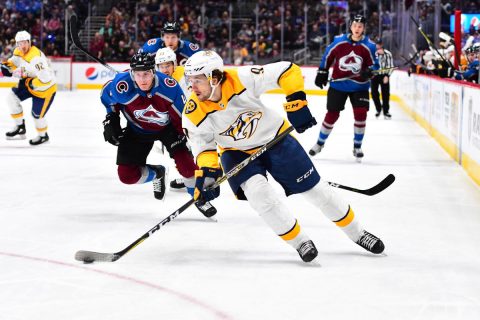 Nikita Zadorov would bring the Avalanche even at 1-1 on a wicked slap shot past Nashville goalie Pekka Rinne at 12:57 of the opening frame. Zadorov was assisted by Carl Soderberg and Anton Lindholm on the play.
Nashville's Kyle Turris would give the Predators the lead once again at 8:08 of the second period with a slap shot past Avalanche goalie Semyon Varlamov and the Predators took a 2-1 lead.
A freak play would bring Colorado even with Nashville at 4:38 of the second period, when a shot on goal rebounded off of Pekka Rinne.
Nashville's Kevin Fiala tried to play it out of the goal crease but accidentally tapped the puck into the Nashville net, and the game was tied 2-2. Colorado's Matt Nieto was credited with the score.
Colorado would take the lead at 14:22 of the third period when Mikko Rantanen would score to make it 3-2 Avalanche.
With time slipping away, it looked like the "cardiac kids" would see their seven game win streak halted in the high altitude of Colorado, but that's when Ryan Ellis is at his best. Taking a feed from P.K Subban and Ryan Johansen, Ellis would fire a screaming eagle of a slap shot into the Avalanche net for the 3-3 score.
In overtime, Nashville would put Filip Forsberg, Viktor Arvidsson and Ryan Ellis on the ice for the three-on-three.
At 1:07 of the overtime, Forsberg would score the game winner on the short side of the net and the sweep was complete, with the 4-3 victory.
Nashville returns to the friendly confines of Bridgestone Arena on Tuesday night to play host to the Dallas Stars. It marks the home debut of Mike Fisher, who rejoined the team out of retirement for the stretch run to the Stanley Cup Playoffs.
Puck drops at 7:00pm.