Growers, Artisans encouraged to apply online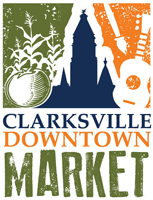 Clarksville, TN – Are you interested in selling your homegrown or homemade items this year at the award-winning Clarksville Downtown Market? The deadline for vendor applications is March 16th.
Vendors selling local produce, dairy products and cheese, honey, flowers, meats, baked goods, and artisan items are strongly encouraged to apply, but all applicants will be considered.
Vendor applications are available online at www.clarksvilledowntownmarket.com
Vendors who have been selected to be a part of the 2018 Market season will be contacted by the Clarksville Downtown Market manager for payment and further instruction by March 23rd.
The fee for a full time vendor, selling at all 20 market days, is $225.00. The fee for part time vendors, selling at 10 market days, is $175.00. Fill-in vendors must pay $25.00 per market day. All vendor spaces include one white 10-by-10 tent, one table, and access to electricity.
Clarksville Downtown Market will be open on Saturdays from 8:00am to 1:00pm, May 26th through October 13th on Public Square. Since its opening in 2009, the Clarksville Downtown Market has been voted the number one farmers' market in Tennessee each year in the American Farmland Trust's Farmers Market Celebration.
For complete vendor rules and guidelines, contact Clarksville Parks and Recreation at 931.645.7476 or visit www.clarksvilledowntownmarket.com
About the Clarksville Downtown Market
The Clarksville Downtown Market is a weekly open-air market featuring local farmers and artisans who offer locally grown fresh produce, food items, and handcrafted products. The Market strives to provide an opportunity for customers to connect with local businesses, while enhancing quality of life in our community.
Enjoy live music, meet the Market mascot, "Corny the Cob," and experience special events on select market days.