Written by Joe Pitts
Tennessee State Representative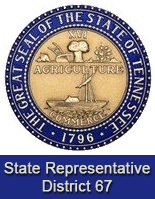 Nashville, TN – Property Tax Relief for disabled Veterans, disabled persons and low-income elderly homeowners, House Bill 1496/Senate Bill 1675 (Sen. Mark Green, R-Clarksville) passed the House Floor on March 12th, 2018 and is headed by to the Senate Floor for a vote on the amendment which would include the veterans spouse.
This legislation corrects a rule change made in October, 2017 which would have caused individuals to lose their eligibility for tax relief if the veteran, low-income elderly, and disabled person if admitted to a nursing home for an indeterminate amount of time.
"Thank you to the Montgomery County Veterans Coalition, the County Officials Association of Tennessee and the Tennessee Office of the Comptroller for their help with this legislation," said Pitts.
Limiting New Statewide Assessments
HB 1855 (Rep. Tim Rudd, R-Murfreesboro) and SB 1806 (Sen. Bill Ketron, R-Murfreesboro) was approved by the House of Representatives on Monday, March 12th, 2018 and should be heard on the Senate Floor next week as well. This legislation will prohibit the Tennessee Department of Education and the State Board of Education from mandating any statewide assessments for any grades or subjects beyond those required as of the 2016-2017 thru the 2021-2022 school years.
Veterans Hiring Preference Legislation
In April, 2012, the "Tennessee Excellence, Accountability, and Management (T.E.A.M.) act was signed into law. Part of this law stated "When invitations to interview candidates are extended, whether for appointment or promotion, and the list of eligible includes any person who has been honorably discharged from the army, navy, air force, marine corps or coast guard or any active federal service in the armed forces of the United Stated, these persons must be invited to interview".
It also stated "If a veteran is on the list of eligible, and if the minimum qualifications and the skills, abilities, competencies and knowledge of the veteran and any another applicant being interviewed for the position are equal, preference will be given to the veteran for the position."
This summer it was brought to my attention that the Tennessee Bureau of Investigation interpreted "will" as "may". Thus, House Bill 2006/Senate Bill 2191 (Sen. Jon Lundberg, R-Bristol) was drafted changing the word "will" to "shall" to clarify the Tennessee General Assembly's original intention.
This bill passed the House Consumer and Human Resources Full Committee on March 14th, 2018 and will be heard on the House Floor on March Thursday, March 22nd, 2018.
Prescriptions during a Disaster
HB 1695 (Rep. Joe Pitts, D-Clarksville) and SB 1670 (Senator Mark Green, R-Clarksville) was passed on the House Floor on Monday, March 12th, 2018 and is now headed to the Governor for his signature. This legislation will allow a pharmacist in this state to dispense to a patient without proper authorization or a valid prescription a 20 day supply of maintenance medication in case of a natural disaster, such as hurricane, tornado, flood, etc.
"Medications for blood pressure, diabetes, etc, can be dispensed to citizens that have been misplaced due to these disasters. This will allow citizens 20 days in order to contact a doctor for a valid prescription. Opioids or scheduled II drugs are not included in this legislation," Rep. Joe Pitts.
The legislation passed the Senate on March 8th, 2018.
Observation of Students in School
HB 2005 (Rep. Joe Pitts, D-Clarksville) and SB 2018 (Senator Ferrell Haile, R-Gallatin) will require all LEA's in the State of Tennessee to create a policy to allow a parent or a parent's designee to observe instruction and other school activities.
"This legislation was brought to me by a group of parents after their county school district approved a policy to prohibit parent observations," Pitts said. "We should be doing all we can to encourage parental involvement, and policies prohibiting parents from visiting their child's classroom are unacceptable." said Pitts.
This legislation will be heard in the Education Instruction and Programs Sub Committee on March 21st, 2018.
Two-Year Deaf Mentor Pilot Project
HB 2149 (Rep. Joe Pitts, D-Clarksville) and SB 2143 (Senator Ferrell Haile, R-Gallatin) was brought to us by a group of citizens advocating for the deaf, hard of hearing, or deaf-blind children. This legislation will establish a two-year deaf mentor pilot project that will assist families and agencies in implementing bilingual and bicultural home-based programming for your children who are deaf, hard of hearing, or deaf-blind.
There will be one pilot project in each of the 3 grand divisions and after the two-year pilot program the Department of Education shall evaluate the pilot project and its three programs to determine whether the project and programs should be continued or replicated.
If you have questions about the above or other issues of concern, please call me at 615.741.2043, or email me at rep.joe.pitts@capitol.tn.gov