Austin Peay Sports Information

Nashville, TN – Austin Peay State University men's tennis team could not fight back from an early deficit in the opening round of the Ohio Valley Conference Tournament, as they fell, 4-0, to Eastern Kentucky, Friday, at the Centennial Sportsplex.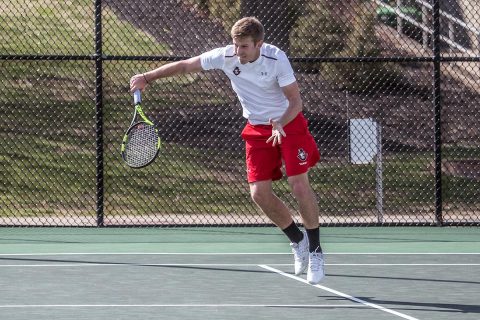 The loss ends the season for the Govs (2-17, 1-4 OVC). The Govs were competitive throughout the entire match, but dropped the doubles point.
The Colonels (7-18, 3-3 OVC) won at No. 2 doubles to start things off, but the Govs battled at No. 1 and No. 3 doubles, bringing both matches to tiebreakers. However, the Colonels prevailed at No. 3 doubles in the tiebreaker, seizing control.
The Govs got off to a sluggish start in singles, with EKU winning the first set in five of six singles matches. Christian Edison won the first set of his match, however, giving the Govs a chance. Aleh Drobysh, playing his final match as a Gov, fought hard in the second set against his opponent at No. 3 singles, but barely came up short as EKU took a 2-0 lead.
The Colonels then followed it up by winning at No. 1 and No. 5 singles in fairly short order, as they advanced to the semifinal round to face Belmont. At the time the match ended, however, the Govs were ahead in the second set in two of the three matches remaining.
Box Score
Eastern Kentucky 4, Austin Peay 0
Doubles
1. VAN FLYMAN, Ramon/RUIZ, Gabriel (EKU) vs. OZELIS, Almantas/DROBYSH, Aleh (APSU) 6-6, unfinished
2. SANCHIS, Guillem/DODERO, Carlos (EKU) def. KIESSLICH, Timo/EDISON, Christian (APSU) 7-6
3. AGGARWAL, Parth/CASTALDO, Nicolas (EKU) def. WOODHAM, Chad/BOTTORFF, Evan (APSU) 6-4
Singles
1. VAN FLYMAN, Ramon (EKU) def. OZELIS, Almantas (APSU) 6-4, 6-3
2. AGGARWAL, Parth (EKU) vs. EDISON, Christian (APSU) 6-7, 4-4, unfinished
3. SANCHIS, Guillem (EKU) def. DROBYSH, Aleh (APSU) 6-3, 6-4
4. RUIZ, Gabriel (EKU) vs. KIESSLICH, Timo (APSU) 6-3, 5-4, unfinished
5. CASTALDO, Nicolas (EKU) def. LORINO, Jacob (APSU) 6-4, 6-4
6. DODERO, Carlos (EKU) vs. WOODHAM, Chad (APSU) 6-4, 6-6, unfinished
Order of finish: Doubles (3, 2); Singles (3, 1, 5)