"Planters Bank Presents…" Film Series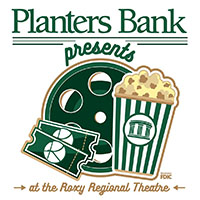 Clarksville, TN – The "Planters Bank Presents…" film series to show the documentary "88 Days in the Mother Lode – Mark Twain Finds His Voice" this Sunday, April 22nd, 2018 at the Roxy Regional Theatre at 4:00pm.
This PBS documentary tells the story of 29 year old Samuel Clemens, who in the fall of 1864 hid out from the San Francisco police in the cabin of the brother of a friend near Angels Camp, in the California Sierra foothills.
Find out how 88 days in the mother lode, and a story about a jumping frog, helped propel Mark Twain from local newspaper writer to international celebrity.
Admission to each film in the "Planters Bank Presents…" series is $5.00 (cash or check only). Tickets are on sale now at the Roxy Regional Theatre box office. Any remaining tickets will be available at the door one hour prior to showtime.
Normal box office hours are 9:00am-2:00pm, Monday through Friday.
At the concession stand, enjoy a bag of popcorn and a bottled water for $5.00 (sold separately for $4.00 and $2.00, respectively) and assorted candy for $2.00.
This film series at the Roxy Regional Theatre is made possible by the generous support of Planters Bank and the Clarksville-Montgomery County Arts & Heritage Development Council.
Presented by special arrangement with This 'N That Films: www.thisnthatfilms.net
The Roxy Regional Theatre is located at 100 Franklin Street in Clarksville, TN.