Austin Peay Sports Information

Cookeville, TN – Austin Peay State University Track and Field pole vaulters picked up the big points and the sprints positioned themselves well for a big move on Saturday's final day of competition at the 2018 Ohio Valley Conference Outdoor Track and Field Championships, hosted by Tennessee Tech at Tucker Stadium.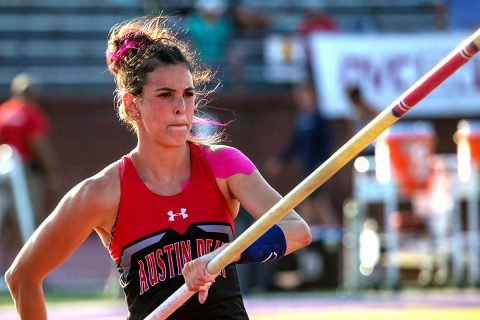 Less than 17 points separate leader SIU Edwardsville from the Governors, who picked up 22.5 points after the first two days of competition.
Not only is much up in the air with all sprint/hurdle finals still to be completed, the Govs have some unfinished business with Murray State in the Heritage Bank Battle of the Border; the Racers hold a slim 6.5 point advantage (29-22.5) with one day remaining.
Pole Vault
The top two spots once again belonged to the Govs, with junior Savannah Amato winning an incredible fifth consecutive gold medal, this time thanks to an OVC Championship-record 4.05m (13-3.50) mark. Amato, who was the only athlete to hit the 4.05m barrier, did so in her first attempt and became the first Governor to ever make an attempt at 4.27m (14-0.0).
OVC Freshman of the Year Morgan Bradley took silver, her first career medal in OVC competition, with a 3.74m (12-3.25) mark. The reliable Dascha Hix passed to the 3.59m mark, but was unable to record a height.
"You know you're good when you go 1-2 and you're a little disappointed," said head coach Doug Molnar. "Dascha didn't vault badly; the problem was that we didn't have the right size pole for how good she was doing today. All three had early misses at the opening height because we were vaulting almost too well."
Sprints
Austin Peay will have three chances to earn points in both the 200 and 400m dashes thanks to a trio of qualifiers in both events. In the 200m, less than two-tenths of a second separated freshman Lennex Walker (personal-best 24.45), sophomore Tymeitha Tolbert (24.50) and freshman Sabrina Richman (personal-best 24.57), as the trio earned the fifth-through-seventh qualifying spots for Saturday's final. Richman also will run the 400m, qualifying third and knocking more than a second off her personal-best with a 54.94 mark; senior Allysha Scott (sixth, 56.17) and sophomore Amelia Thiesing (seventh, personal-best 56.33) also set to challenge for a spot on the podium.
"Sabrina and Amelia had huge PR's," Molnar said. "Allysha is a senior and a vet and does what she always does when she gets to conference; she's a gamer. We knew we'd surprise people in the 200 and we feel great about their chances tomorrow."
Tolbert will get two cracks at individual medalist honors; in addition to the 200m, the Louisville native qualified for the 100m final with an 11.90 mark.
Other Standouts
Should the Govs barely prevail over Murray State in the "Battle of the Border" competition, they'll have
Caroline Kiplagat
to thank for it. In the final event of the day, the junior held off a hard-charging Ida Mutai from Murray State to finish eighth in the 3000m steeplechase, securing a crucial point with an 11:33.60 run.
"Caroline did not want to lose to a girl from Murray," Molnar said. "They battled the whole way and that speaks to Carolines character; she was not going to be denied."
Junior Nia Gibbs-Francis kicked off the day by securing 1.5 points thanks to a seventh-place tie after her season-best 1.65m (5-5.0) high jump mark.
Walker also stands to be busy tomorrow. In addition to her qualification in the 200m final, she'll also be one of the favorite in the 100m hurdles after qualifying second with a career-best 13.92 mark, her first sub-14 second run as a Gov.
Next Up for Austin Peay Track

Final-day action kicks off at 11:00am, Saturday, with the women's triple jump, with action set to conclude around 5:30pm.
"We're positioned well," Molnar said. "We've got a number of people in the finals. A lot of it will be head to head in those (track) events. If you finish in the top three, you get big points and we need big points tomorrow. That and the two relays will be huge for us tomorrow."