Springfield, TN – A selection of the paintings on view at the gallery of the Copper Vault in Springfield during the month of May are from a new series entitled "Given What You're Given" by artist Terri Jordan. The new works include objects from the artist's past homes and experiences.
Jordan says of the suite, "As in all my work, there are subtle symbols and points of reference within the landscapes of canvas. But in this suite, the works exhibited are part of a reflective moment. Since reaching the age of fifty, I continuously find that I am looking to my past while at the same time considering what I have left and what I will be leaving my son in guidance, memories, and a sense of being".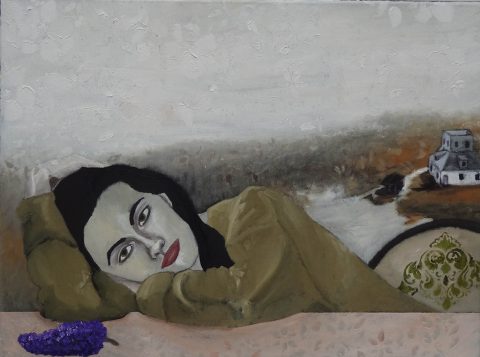 The back space includes pieces that have a more mystical subject matter such as Witch Fever. Themed from the William Morris wallpapers of the late 1800s that often contained arsenic, the painting features symbols of death.
Working on canvas primed in black or cerulean blue, Jordan's figurative style is easily recognizable. Her women unabashedly stare back at you, dressed in timeless fashions that enable them to easily fit into any period.
The Agora Gallery in New York City has said, "Terri's paintings contain the best qualities of both figurative and still life painting. Much like Matisse's women, Jordan's figures are symbolic statements of serenity, beauty, and ornament. More restful than Matisse's women, however, Jordan explores a more understated realm of existence and privacy."
Jordan's figurative paintings have been exhibited in group and solo shows throughout the country. She was selected to exhibit in the exhibition 2016 Contemporary Women Artists, Chico, California and in 2015 was named in the Top Ten Portrait/figurative artists of Tennessee by the Portrait Society of America in a juried process.
In 2012, Terri was one of 25 women artists selected to participate in the National juried exhibit, titled Where Do We Go from Here? The Shape of Things to Come at the RCC Wiseman Gallery in Grants Pass, Oregon.
The artist will be in the gallery of the Copper Vault May 17th for a meet and greet reception from 5:30pm to 7:30pm. "Given What You're Given" will be on view through May 31st. The Copper Vault is located at 116-118, 6th Avenue, Springfield, Tennessee. For more information on above event contact H. N. James at punkrockphotographer@gmail.com