Honoring a Champion. Inspiring Greatness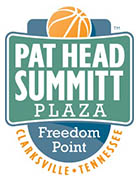 Clarksville, TN – Through the keen eyes of a sculptor, an architect and an exhibit designer, the Pat Head Summitt Legacy Plaza has come to life at Freedom Point.
A bronze statue of Coach Summitt, hometown hero and legendary University of Tennessee women's basketball coach, and an interpretative display of her life story will be dedicated at 3:00pm Friday, June 15th, 2018 in Clarksville's Liberty Park.
"Though her famous 'stare' may be missing, our sculpture hopes to embody her passion and fire," said Brett Grill, sculptor of the Coach Summitt statue. "She was a rare talent, quickly ascending to the highest reaches of her field, which she dominated throughout her career."
Grill's commissioned sculptures can be found in public and private collections at universities, museums and public art settings across the nation. The studio where he creates figurative bronzes, monuments and portraits is in Grand Rapids, MI.
"It was an immense honor to work on the Pat Head Summitt statue," Grill said. "It's fitting that she is now enshrined permanently in bronze in her hometown."
The Pat Head Summitt Project Committee was formed in 2013 to plan, design, construct and dedicate to the City of Clarksville a plaza to honor Summitt's stellar career and the vital contributions she made to sports and the state of Tennessee.
In all, her teams won a record 1,098 games and eight NCAA Championships, and her leadership forever changed women's athletics in America.
The committee worked on several fronts to fundraise, conceptualize and design the park, commission the statue and work with the artist to bring forth a cohesive visual and interpretive experience.
Bradley Martin III, of Lyle Cook Martin Architects of Clarksville, the architect who designed the plaza, wanted visitors to be able to experience the site as a sequence of historical snapshots showcasing Coach Summitt's life.
"As her birthplace, Clarksville-Montgomery County has a unique opportunity, over and above any other
City or County, to capture the comprehensive story of Coach Summitt," Martin said. "Whether you follow women's college basketball or not, her legacy is undeniable."
With Martin's design in mind, Frank Lott, a principal of BLF Marketing, Clarksville, researched and collected artwork to compose four panels with information spanning Coach Summitt's life and accomplishments.
"Early on, our project theme became 'Honoring a Champion. Inspiring Greatness.' I think those words capture our desire to create a lasting tribute to Coach Summitt and a way to share her story to inspire future generations," Lott said.
The display begins with her childhood on the farm with strong family influences, followed by high school basketball, her UT-Martin experience as a player, and her selection as the UT Lady Vols coach.
Visitors will learn of her teams' Southeastern Conference dominance, her NCAA Championships, and her Olympic and international coaching honors.
The public is invited to the dedication ceremony on Friday, which will include a keynote speech by Shelley Sexton Collier — who played on Summitt's first NCCA Championship team — and the unveiling of the statue. A donors reception will follow at Freedom Point's meeting hall.
The event is being coordinated by the Clarksville Parks & Recreation and Visit Clarksville.