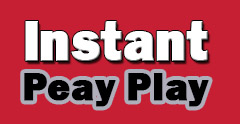 Clarksville, TN – For the better part of nine seasons former Austin Peay State University (APSU) Athletics Hall of Fame member A.J. Ellis was a key cog behind the plate for the Los Angeles Dodgers, but a trade to the Philadelphia Phillies in 2016 followed by a season with the Miami Marlins seemed to signal that the end of his career could be right around the corner.
But the former four-time All-Ohio Valley Conference First-Team member has seen a resurrection to his career with a return to the west coast in 2018 as a member of the San Diego Padres.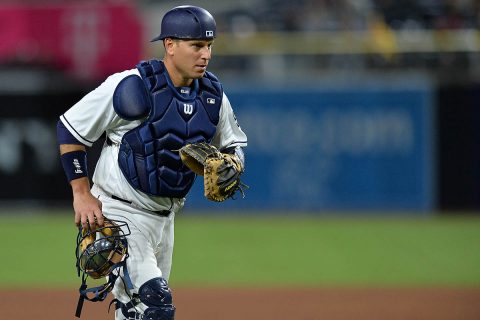 After batting only .210 in 51 games for the Marlins last season, the Padres signed Ellis to a minor league deal in mid-February of this year – but after showing his continued knack of bring out the best in a pitching staff during spring training San Diego purchased his minor league contract on March 28th and was assigned to the club's opening day roster.
While his work with the pitchers and overall leadership in the clubhouse was everything as expected by the Padres, Ellis' offense was slow to kick in with the 37-year-old only collecting three hits in his first 20 at bats – which is just a .150 average.
But in his last 20 appearances – including a current five game hit streak — Ellis has seen his average jump to season-high .325 after recording 22 hits in his last 57 at bats, which include five doubles and a home run.
While Ellis has been hot at the plate of late, he will soon be part of a big question the Padres will have at address in the next week to 10 days with the return from the disabled list by Austin Hedges – who has been out since May 1st.
While San Diego planned to start the season with three catchers on the active roster (Ellis, Hedges, Raffy Lopez), at this point of the season it is doubtful the Padres will continue to carry three catchers on its every day roster, so something has to give.
Here is where things can be a little dicey.
Lopez can be sent down to the club's Triple-A team, but if Ellis is the odd catcher out he would have to be designated for assignment, which for all intensive purposes would end his stay in San Diego.
But a positive, if that happens, is that several other major league clubs are looking for a veteran catcher and with Ellis hitting well the last month or so that will only help his cause.
Hopefully from APSU star Ellis will continue his run with the Padres, because even at 37, he has shown he still has plenty left in the tank.