Austin Peay State University Sports Information

Huntsville, AL – Senior Wesley Gray led the way with a top 10 finish for Austin Peay State University (APSU) men's cross country team as they raced in the 10k at the UAH Chargers Open.
Gray finished the event with the time of 27:14.57 .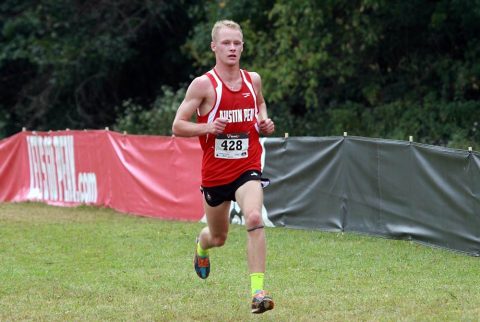 Sophomore Thomas Porter was next to cross the finish line for the Govs as he cracked the top 20 with the time of 27:45.91, finishing 17th.
Senior Hezron Kiptoo barely missed the top 20 as he timed 28:11.75 to finish in 21st place.
Next man to cross the line for the Govs was sophomore Daniel Davis as he placed 37th with the time of 29:38.38. Junior Tyler Smith barely missed the 30-minute barrier as he crossed the finish line with the time of 30:03.30. Nash Young cracked the top 50 as he finished with the time of 30:55.70 and placed 50th.
Although impressed by his team, head coach Doug Molnar was still concerned on how his guys let their foot off the gas pedal late in the race.
"It was disappointing because we have a veteran group up front and they have the ability to dominate a race like this," said Molnar. "We'll have to man up and get ourselves together. We have to step it up and get it done."
The Governors are headed to Memphis, Tennessee for the Rhodes College Invitational, Saturday