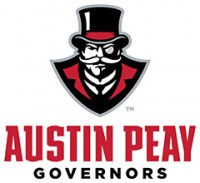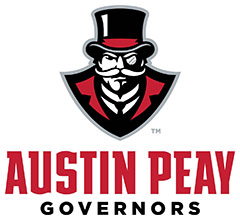 Clarksville, TN – Austin Peay State University announced the 2018 APSU Homecoming Court and crowned Homecoming King and Queen during halftime at the APSU Governors football game against Tennessee Tech at Fortera Stadium this past Saturday, October 27th.
LaQuandra McGhee a senior Social Work major was crowned Homecoming Queen. McGhee from Antioch Tennessee was sponsored by Kappa Alpha Psi, NPHC, SODA.
Business Accounting major Jake Bumpus from Ashland City Tennessee crowned Homecoming King. Bumpus was sponsored by Chi Omega Women's Fraternity.
Homecoming is a time to show support for the Austin Peay State University Football team and to celebrate school spirit.
The Homecoming Court is made up of five men and five women elected by Austin Peay students.
Those 10 people are then interviewed to decide the King and Queen.
When asked how it felt to be named APSU Homecoming Queen, McGhee stated, "It was really unexpected. But, I am really happy to be a representative as an ambassador for our school and I am looking forward to all the great things coming with it. I'm excited, very excited."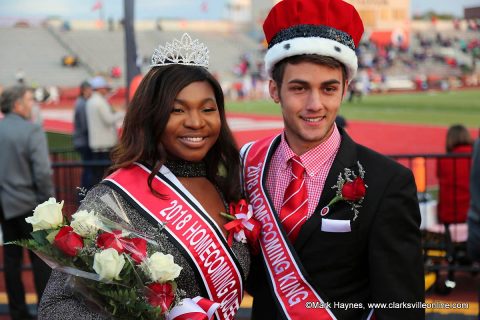 "It was definitely very unexpected. I knew I had an opportunity. I know all the other four guys that were on homecoming court. Everybody deserved it. It's truly an honor to be crowned Homecoming King", said Bumpus.
"It means so much. Austin Peay was a last minute decision for me to come here. Now that I am about to graduate after four years I am glad I ended up here. I would not have changed anything about it. I love everybody that I have met here and all the employees. I love the time that I have spent here," Bumpus stated.
The 2018 APSU Homecoming Court are the following
Gabriela Espinosa, a senior nursing major from Antioch Tennessee sponsored by Kappa Alpha Order.
Macy Mayfield, a senior communications major from Clarksville Tennessee sponsored by Alpha Delta Pi Sorority.
Aysia Smith, a junior communications major from Detroit Michigan sponsored by Alpha Kappa Psi Business Fraternity.
Alexis Wofford, a senior psychology major from Memphis Tennessee sponsored by Govs Programming Council.
Lamarkus Day, a junior criminal justice major from Nashville Tennessee sponsored by Alpha Kappa Psi Business Fraternity.
Trenton Delane, a senior business marketing major from Lawrenceburg Tennessee sponsored by Omicron Delta Kappa Honor Society.
Kaleb Dubose, a junior political science major from Meridian Mississippi sponsored by Alpha Delta Pi Sorority.
Ruben Torres, a senior chemistry major from Clarksville Tennessee sponsored by Sigma Phi Epsilon Fraternity.
Photo Gallery