Austin Peay State University (APSU)

Clarksville, TN – The 2018 edition of this Christmas concert put together by Austin Peay State University (APSU) music professor David Steinquest creates a brand-new holiday! December Eve!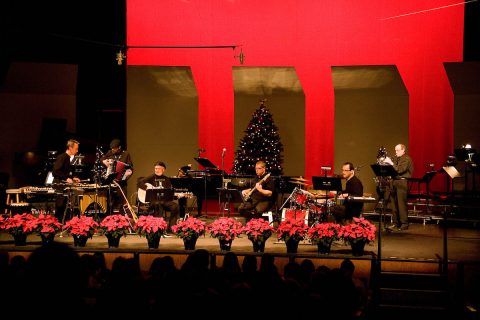 This year's music is comprised of selections from "While Shepherds Watched" by We Three & the Kings, "Do You Hear What I Hear" by Paul Carrol Binkley, "Christmas Pageant" by Family Force 5 and "My Holiday" by Mindy Smith, as well as a few new selections written for this concert.
The concert includes Christmas standards like "The Twelve Days of Christmas," "The Little Drummer Boy," "While Shepherds Watched," "I Wonder as I Wander," "Carol of the Bells," "Away in a Manger," "O Come, O Come Emmanuel" and "Silent Night." However, the tunes are dressed up in unusual and innovative arrangements that give them new life.
The show will have a homey atmosphere with the stage set up like a living room complete with Christmas decorations!
The performance is 7:30pm Friday, November 30th, in The George and Sharon Mabry Concert Hall.
Admission is two cans of food, which will be donated to Loaves and Fishes, or $5.00. Bring your cans of food to the music office in the Music/Mass Communication Building, Room 139. The phone number is 931.221.7818.
To purchase tickets, go to AP Marketplace (https://epay.apsu.edu/C20023_ustores/web/index.jsp). Tickets go on sale Friday, November 16th. This concert has sold out every year, so make sure to get your tickets ahead of time!