Austin Peay State University (APSU)

Clarksville, TN – Earlier this year, the Austin Peay State University Office of Alumni Relations announced the recipients of the 2019 Candlelight Ball Awards.
The Wendell H. Gilbert Award will go to Dr. Jeannie Beauchamp, who established Clarksville Pediatric Dentistry in 1999, and the Spirit of Austin Peay Award will go to Len Rye, a residential contractor who specializes in custom homes.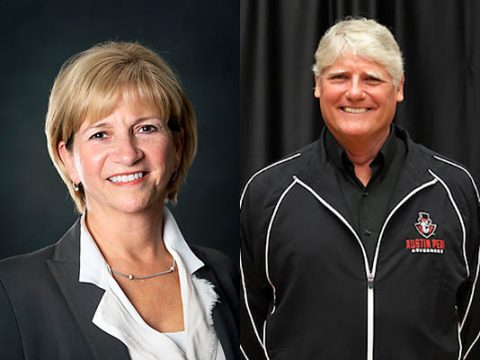 Since 2011, the University has honored two individuals who have supported or brought recognition to APSU through their achievements or contributions. Beauchamp and Rye will be honored on March 16th, 2019, at the Omni Nashville Hotel during APSU's 35th Annual Candlelight Ball.
The formal, black-tie ball is one of APSU's premier community events, raising money for Austin Peay State University scholarships.
Beauchamp has served on several advisory panels for the state of Tennessee regarding dental care of children and special needs, including the TennCare Medical Care Advisory Committee. She is a Fellow of the American College of Dentists, Fellow of the International College of Dentists and a Fellow of the Pierre Fauchard Academy.
She was voted Dentist of the Year by the Tennessee Academy of General Dentistry in 2012. A member of the Governors Club, Beauchamp previously served as co-chair of the Candlelight Ball, chair of the APSU Tower Club, past president of the Clarksville Area Chamber of Commerce and past president of the Sunrise Rotary Club.
In addition to being a successful businessman, Rye has nearly 40 years of volunteer work. He has served on the Montgomery County Rescue Squad and Dive Team and the East Montgomery Volunteer Fire Department. He worked as a coach and president of Clarksville National Little League, and he was the Habitat for Humanity recipient of the Dr. Ed Atkinson Volunteer of the Year award in 2000.
He is a member of Austin Peay's Red Coat Society, and Rye and his sister, Patty, established the Rye Family Endowment.
For more information on the Candlelight Ball, Contact the APSU Office of Alumni Relations at alumni@apsu.edu or at 931.221.7979.