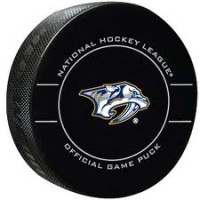 Nashville, TN – The Nashville Predators played like gangbusters for the first two periods of hockey tonight, then had to hold on for the win against the L.A Kings, 2-1. With the win, the Predators take over first place in the Central Division of the Western Conference.

The Kings suffer their sixth loss in a row and are reeling towards the end of their season, as Nashville was expected to have little trouble with L.A tonight.

Kyle Turris got things started for Nashville at 8:50 of the opening period taking a cross ice pass from Filip Forsberg and blasting the one-timer past Kings goalie Jonathan Quick for the early 1-0 lead.

Nashville took their lead into the second period when at just 46 seconds into the frame, Roman Josi grabbed a sweet backhanded pass from Viktor Arvidsson and ripped a shot from the circle that clanked off the post and into the net and the Predators grabbed a 2-0 lead. The goal would prove to be the game winner.

As the two teams entered the third period, L.A stepped up their offensive pressure on the Predators. As usual, Pekka Rinne stood tall in net to give his team a chance to win the game. The Kings outshot the Predators 12-6 in the final period while both teams had 29 shots on goal on the night.

L.A would close the gap at 9:24 of the third period when Michael Amadio whipped the loose pucl past Rinne for the score, and suddenly and unexpectedly, we had a one goal affair, 2-1.

But that would be all she wrote as a stifling Nashville defense would hold off the Kings attack late in the period and the Predators would hold on for the win.

With the NHL trade deadline looming on Monday, there's been much speculation on whether the Predators will make a trade to bolster their struggling offense as they eye the playoffs. Nashville's power play ranks last in the NHL and will have to improve if they expect to go deep into the Stanley Cup.

Nashville will return to the Bridgestone Arena on Saturday night to host the Colorado Avalanche at 7:00pm.



Sections
Sports
Topics
Bridgestone Arena, Central Division, Colorado Avalanche, Filip Forsberg, Hockey, Kyle Turris, L A Kings, Nashville, Nashville Predators, Nashville TN, National Hockey League, NHL, Pekka Rinne, Predators, Roman Josi, Stanley Cup, Stanley Cup Playoffs, Tennessee, USA Today, Viktor Arvidsson, Western Conference