Austin Peay State University (APSU)

Valdosta, GA – Current Ohio Valley Conference Player of the Week Almantas Ozelis won his singles match, but Austin Peay State University (APSU) men's tennis team tripped up against Valdosta State, 4-1, Thursday, at the VSU Tennis Courts.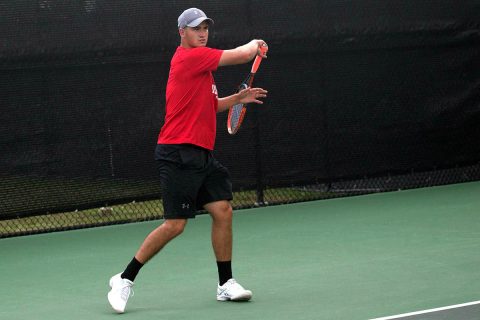 The Governors (3-9) knew they would face a tough task, as the Blazers (2-3) came in as the No. 14 ranked team in Division II.
The Blazers got off to a hot start, winning at No. 1 and No. 2 doubles rather comfortably to take a 1-0 lead into singles.
Ozelis knotted the match up at 1-1 after his 6-3, 6-1 win over Jordi Mas at No. 1 singles. Ozelis has now won his last two singles matches and is 6-4 overall this spring, with all matches played at the No. 1 spot.
Unfortunately for the Govs, Ozelis's victory could not spur them on, as the Blazers won in straight sets at No. 3 through No. 5 singles to claim the match.
The Govs return from their road journey to face off with Butler, 10:00am, next Wednesday, March 13th.
Box Score
#14 Valdosta State 4, Austin Peay 1
Doubles
1. Yohan Nguyen/Axel Holm (VSUMT) def. Anton Damberg/Almantas Ozelis (APSU) 6-2
2. Jordi Mas/Florian Simbozel (VSUMT) def. Timo Kiesslich/Christian Edison (APSU) 6-3
3. Xavi Pineda/Robert Cizek (VSUMT) vs. Chad Woodham/Jacob Lorino (APSU) unfinished
Singles
1. Almantas Ozelis (APSU) def. Jordi Mas (VSUMT) 6-3, 6-1
2. Florian Simbozel (VSUMT) vs. Christian Edison (APSU) 6-2, 2-6, unfinished
3. Yohan Nguyen (VSUMT) def. Anton Damberg (APSU) 6-2, 6-4
4. Xavi Pineda (VSUMT) def. Timo Kiesslich (APSU) 7-5, 6-2
5. Axel Holm (VSUMT) def. Jacob Lorino (APSU) 6-2, 6-3
6. Robert Cizek (VSUMT) vs. Hunter Sanders (APSU) 6-1, unfinished
Order of finish: Doubles (1,2); Singles (1,5,4,3)