APSU Sports Information

Clarksville, TN – The Austin Peay State University (APSU) softball team will head north for its final in-season tournament of the year, this weekend, as it travels to Oxford, Ohio, to participate in the Miami Invitational.
The Governors (12-11) will open play, 2:00pm, Friday versus Dayton, followed by a 4:30pm matchup versus tournament host Miami University.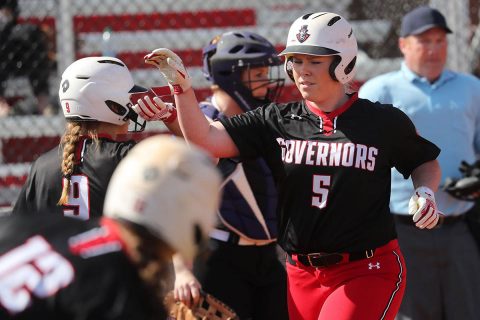 Saturday will see the Govs play the same two teams, with 1:30pm and 6:30pm schedule starts, while Sunday's tournament finale comes versus Michigan State – scheduled to begin at noon.
Coming into the final in-season tournament of the season, the Govs offense is led by senior Danielle Liermann, who is hitting at a .364 clip, with three doubles, eight home runs and 20 RBIs.
She is followed by a pair of teammates also hitting .300-or-better this season, including Kelsey Gross (.371, 1 HR, 8 RBI) and Carly Mattson (.338, 5 HR, 18 RBI).
Kacy Acree comes in hitting just under .300 this spring, batting .295 with four home runs and 17 RBI.
In the circle, Morgan Rackel has been the workhorse for the Govs' staff' posting an 8-5 overall record with a 2.91 ERA in 81.2 innings of work, while striking out an Ohio Valley Conference-high 91 batters this season.
Kelly Mardones follows at 3-5, with a 3.75 ERA and 19 strikeouts in 52.1 innings pitched, while Gross rounds out the staff with a 1-1 record – with two saves — a 2.67 ERA and 12 strikeouts in 21 innings.
About the Dayton Flyers

The Flyers of the Atlantic 10 Conference enter the weekend with an 8-10 overall record, including splitting a doubleheader on Wednesday at Eastern Kentucky.
Austin Peay and Dayton haven't played any common opponents yet this season, but the Flyers are 2-1 so far this season versus teams from the OVC, with wins versus Belmont and Eastern Kentucky.
Offensively, the Flyers have three players hitting better than .300 this season, led by Kyle Davidson (.390, 2 HR, 11 RBI) and Lisa Tassi (.388, 4 2B, 9 RBI).
In the circle, Jessica Gilliam and Jessica Weaver anchor the Flyers pitching staff, with Gilliam having a 3-4 record, including a 3.22 ERA and 28 strikeouts in 41.1 innings, while Weaver is 3-3 with a 4.83 ERA and 24 strikeouts in 37.2 innings pitched.
About the Miami RedHawks

The RedHawks of the Mid-American Conference enter the weekend with a 10-8 overall record, including a 9-1 mid-week loss at No. 18 Kentucky, Tuesday.
Miami and Austin Peay have one common opponent, UNLV, a team that beat the Govs 3-1, while the RedHawks defeated the Rebels, 1-0. They are also 1-0 this season versus OVC teams, having defeated Eastern Illinois, March 1, in Nashville, 3-1.
They are led offensively by hot-hitting Ashton Slone, who enters the weekend hitting at a .432 clip, with 3 home runs and 15 RBI. Johniann Wahl follows at .306 with four home runs and 10 RBI.
In the circle, Courtney Vierstra leads the RedHawks pitching staff with a 5-2 record, including a 2.86 ERA and 77 strikeouts in 51.1 innings of work.
About the Michigan State Spartans

The Spartans of the Big Ten Conference enter the weekend with a 7-15 overall record, having not played since last weekend at the War Eagle Challenge in Auburn, Alabama, where they went 2-3.
The two teams have no common opponents this season with the Govs being the only OVC team they will face in 2019.
Offensively, the Spartans have four players hitting over .300 this season, led by Katie Quinlan's .355 batting average, followed by Ebonee Echols (.351, 3 HR, 15 RBI) and Charla Echols (.345, 2 HR, 10 RBI).
APSU Governors Hit and Run
Senior outfielder Kacy Acree needs one more RBI for 100 in her career.
Senior pitcher Morgan Rackel needs five more strikeouts for 300 in her career.
Senior third baseman Danielle Liermann needs one double and one home run to move alone into the top spots in both categories in program history.
The Miami Invitational marks only the second time in program history that the Govs have played in the State of Ohio.
Austin Peay's game versus Michigan State marks the second contest this season versus a team from a Power 5 Conference (Ole Miss).