Clarksville Police Department (CPD)

Clarksville, TN – Clarksville Police report two men have been charged in the weekend shooting at the 2600 block of Fort Campbell Boulevard.
Originally police wanted to speak to Jeffrey Hairston and Jordan Hairston in reference to the shooting. But, as the investigation progressed, it was determined Jeffrey and Jordan Hairston were actually responsible for the shooting which took place in the club's parking lot.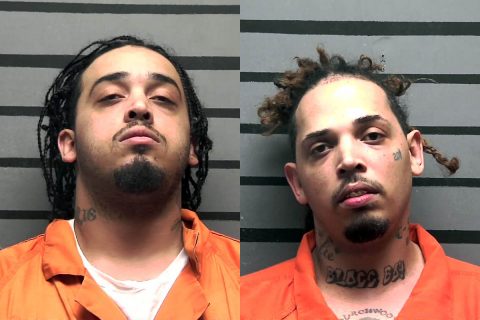 A security camera showed Jeffrey Hairston shooting some sort of long gun while Jordan Hairson was shooting a handgun.
There were 7.62 mm and 9 mm casing located at the scene.
As a result of the firearms being fired, two men sustained gunshot wound injuries. One of the men, Jonte Bailey, was treated and released and then was booked into Montgomery County Jail on outstanding warrants. The other victim in his 60s remains hospitalized in stable condition for his injuries.
Jordan Hairston and Jeffrey Hairston were both picked in Madisonville KY on Wednesday, March 13th, 2019 with the assistance of Madisonville, KY Police Department and Hopkins County Sheriff's Office. They were located at a residence in Kentucky and taken in custody without incident. Both are awaiting extradition back to Clarksville.
Jordan Hairston, 32 will be charged with: Two Counts Aggravated Assault with a bond of $200,000.
Jeffrey Hairston will charged with: Two Counts Aggravated Assault and Unlawful Possession Of A Firearm (convicted felon as of September 2015). His bond is set at: $210.000. Also Jeffrey Hairston was served with a Violation of Probation warrant in Kentucky.
Clarksville Police appreciates the public's and media's assistance for helping us locate and apprehend the Hairstons.
Clarksville Police are still looking for witnesses to the shooting.
Anyone with information can contact Detective Baker, 931.648.0656, ext. 5151, Tipsline 931.645.8477, or go online and submit a tip anonymously at P3tips.com/591