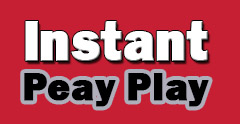 Clarksville, TN – After nine conference weekends and 27 conference contests, Austin Peay State University (APSU) has put itself into a position to claim the Ohio Valley Conference regular-season title this coming week, at Joe Maynard Field at Raymond C. Hand Park, when it hosts Jacksonville State.
The Governors (29-20, 19-8 OVC) enter the final three-game OVC series at home this Thursday, Friday and Saturday, tied with Jacksonville State (30-21, 19-8 OVC) for the top spot in the conference standings, but more importantly knowing a series win this week versus the Gamecock will not only give them their first regular-season OVC title since 2012, but also earn them a key first-round bye in the upcoming OVC Baseball Championship Tournament.
Overall, Austin Peay has eight OVC regular-season titles in its history, tying for the fourth-most in conference history and six OVC Tournament championship, second-most in conference history.
The APSU Govs enter the series having won its last eight OVC contests, including a three-game sweep on the road this past weekend at Eastern Illinois, while Jacksonville State has also been hot in OVC play, winning five of its last six conference games, including a home sweep of SIU Edwardsville this past weekend.
Having the series at home should also be an advantage for the Govs over the Gamecocks, as overall this season Austin Peay is 18-8 at home, while Jacksonville State has a road record of 11-10 this spring.
Resent history also favors the Govs, with Austin Peay sweeping the Gamecocks the last time they were in Clarksville, back in March of 2017, while winning two-of-three last March in Jacksonville, AL.
Comparing the two teams heading into the final week of the 2019 regular-season, Austin Peay has been the better hitting ball club, with a .288 team batting average compared to JSU's .264 average.
Leading the Govs offensive attack will be Parker Phillips, who enters the week batting .309, with 21 home runs and 58 RBIs, while David Martinez (.351, 7 HR, 39 RBI), Garett Spain (.340, 6 HR, 46 RBI), Matt Joslin (.302, 4 HR, 33 RBI) and Garrett Kueber (.302, 3 HR, 17 RBI) are also hitting .300+ this season for the Govs.
Jacksonville State on the other hand only has one player on its roster hitting over .300 this season. Nic Gaddis, who enters the week batting 335, with 11 home runs and 35 RBIs.
Pitching wise, Jacksonville State does have a little bit of an advantage in overall team ERA, 4.34 compared to the Govs 4.93 ERA, but APSU has the advantage with a better one-two punch in starting pitching in Jacques Pucheu and Josh Rye – who are both 7-3 this season – while JSU has one outstanding pitcher in Garrett Farmer (5-1), but no other Gamecock pitcher with more than five starts this season has more than two wins coming into the series.
Finally, defensively the Govs have committed 20 fewer errors this season then the Gamecocks, with the Govs fielding percentage at .973 this season, while Jacksonville State's is at .966.
The winner takes all weekend begins with, 6:00pm, contests on Thursday and Friday, while the finale is scheduled for, 1:00pm, Saturday afternoon.