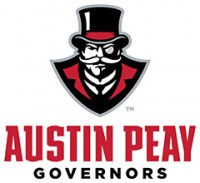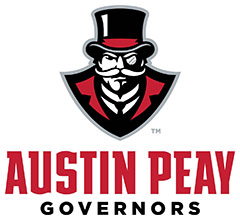 Brentwood, TN – The Austin Peay State University (APSU)s athletics department posted its best-ever finish in the 2018-19 OVC Commissioner's Cup behind two regular-season championships and another pair of Top 3 finishes in Ohio Valley Conference play
APSU delivered its second-straight 100-point tally in the OVC Commissioner's Cup, with its 109 points this season an improvement over last season's 101.5 points. That total pushed the Governors to fourth among the league's 12 members. Murray State won the 2019 competition with 128 points, its first victory since the inaugural commissioner's cup was awarded in 2008-09. Jacksonville State finished second (115) followed by Belmont (114) and Austin Peay.
The Governors strong showing in the Commissioner's Cup included its OVC championship volleyball and women's tennis programs.
In addition, the Governors baseball team and women's outdoor track and field teams each posted Top 3 finishes.
Austin Peay also got Top 5 finishes from men's basketball, women's basketball, men's golf, softball, women's indoor track and field and women's golf.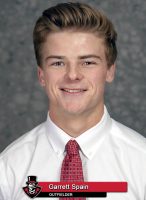 All told 37 APSU student-athletes earned a postseason honor from the OVC. Three Governors were named Freshman of the Year in their respective sport: Micah Kinsley (men's golf), Kyra Wilder (outdoor track and field) and Garrett Spain (baseball). The Govs individual haul included 18 First-Team All-OVC selections or track and field gold medal winners.
In addition, Lidia Yanes Garcia was named one of the six OVC Scholar-Athletes, the second consecutive year an Austin Peay student-athlete has earned the league's highest honor presented to a student-athlete.
"Our student-athletes and coaches did a phenomenal job this year and our highest finish ever in the Commissioner's Cup reflects their efforts," said Austin Peay Director of Athletics Gerald Harrison.
"The great thing about Austin Peay Athletics is that we know there is a higher level we can reach and we will reach it together. Our goal is to be the most complete athletics department, when you look at our success in the Commissioner's Cup, our academic successes and our involvement in the community it is hard for anyone to argue that we are not well on our way," Harrison stated.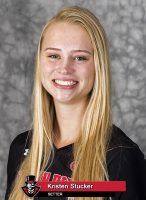 The volleyball program won the 2019 regular-season title, giving the program its first back-to-back league regular-season championship. Kristen Stucker won her third consecutive OVC Setter of the Year award while head coach Taylor Mott was named Coach of the Year for a second consecutive season. Stucker was one of three Govs to receive All-OVC recognition, joined by Logan Carger and Cecily Gable.
The women's tennis team paired its regular-season title with a conference tournament crown – the first time in program history it has completed the season sweep. Ross Brown was named the women's tennis Coach of the Year after leading the team to an unblemished regular-season record (20-0). An impressive five Governors earned All-OVC recognition: sisters Claudia and Lidia Yanes Garcia, Tatiana Lopez, Fabienne Schmidt and Helena Kuppig. Lidia Yanes Garcia became the second player in program history to be named All-OVC in each of their four seasons.
Austin Peay's baseball team posted its best finish in the OVC regular-season race since 2013, finishing tied for second place thanks to a league-leading six All-OVC honorees.
Spain became only the second Governors baseball athlete to earn the league's Freshman of the Year award and also was selected to both the All-OVC and All-Freshman teams. Parker Phillips and Jacques Pucheu were joined on the All-OVC teams by David Martinez, Matt Joslin and Josh Rye.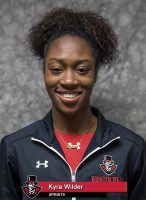 The women's track and field team's third-place finish in the 2019 OVC Outdoor Track & Field Championship was its best finish since 2015, when the event was held in Clarksville. Kyra Wilder was named the OVC Outdoor Freshman of the Year, the third year in a row a Governors athlete has won either an indoor or outdoor Freshman of the Year honor. The Governors also claimed four gold medals in the outdoor championship: Lennex Walker (100-meter hurdles), Sabrin Richman (400-meter dash), Maya Perry-Grimes (long jump) while Richman, Wilder, Amelia Thiesing and Allana Johnson teamed up to win the 4×400-meter relay. Austin Peay also claimed two silver medals and five bronze medals in the championship.
The men's basketball team showed improvement in a top-heavy OVC field, posting a 13-5 record that placed as one of only four OVC teams to post double-digit conference wins in 2018-19. Terry Taylor's pieced together an astonishing sophomore campaign that saw him average more than 20 points per game, ranking fifth among NCAA sophomores in scoring.
He won First-Team All-OVC honors for a second consecutive year and was joined on the All-OVC teams by Chris Porter-Bunton. That duo also was named to the National Association of Basketball Coaches All-District teams.
Keisha Gregory
claimed her first career All-OVC honor while leading the Governors women's basketball team to a fifth-place finish in the regular-season race. It is the third consecutive season Austin Peay has improved its conference win total, posting a 10-8 mark in 2018-19. It also is the fifth-consecutive year a Governors student-athlete has earned First-Team All-OVC recognition.
Kinsley was one of three Governors to earn their sport's respective OVC Freshman of the Year award and helped the Governors men's golf team post a fourth-place finish in the conference championship with its lowest 54-hole total since 2011-12. Chase Korte earned both All-OVC and OVC All-Tournament honors, becoming the first Govs golfer since 2014-15 to earn the latter award.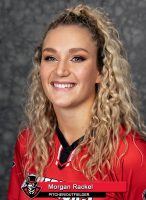 A program-record four First-Team All-OVC selections highlighted another stellar Governors softball campaign that saw the team finish tied for third and take an opportunity to win a share of the regular-season title into the season's final day.
Danielle Liermann, Kacy Acree, Carly Mattson and Morgan Rackel led the record-breaking first-team haul and were joined by Lexi Osowski who earned second-team recognition.
The women's indoor track and field's fifth-place finish in the OVC indoor championship was an early sign of what was to come for the program. Its fifth-place finish was its fifth top-five finish in the last six seasons was paced by an impressive day-two showing that catapulted it into the upper half of the leaderboard.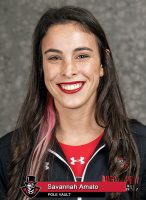 Walker won the 60-meter indoor title and Savannah Amato claimed her sixth-straight OVC title – spanning both the indoor and outdoor championships – with her third-straight gold in the indoor pole vault.
A record-breaking round capped another top-five finish for the women's golf team in the OVC Women's Golf Championship. A final-round 300 helped the Governors finish fifth in the championship as Reagan Greene posted her second consecutive Top 10 finish in the event. Taylor Dedmen also opened her Governors career with a flourish, becoming only the fourth APSU player to earn All-OVC and OVC All-Newcomer honors in the same season.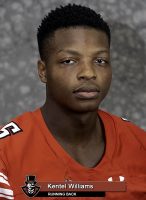 Austin Peay's football team saw seven of its student-athletes recognized on the All-OVC teams for a second consecutive season. Kentel Williams, Jaison Williams and Gunnar Scholato each picked up first-team honors with Byron Glass, Ethan Self, Malik Davis and Juantarius Bryant earning second-team recognition.
Under first-year head coach Naomi Kolarova, the women's soccer team saw a trio of student-athletes earn All-OVC recognition. Claire Larose, Renee Semaan and Jennifer Smith each earned postseason honors from the league with both Larose, the Govs leading goal scorer in 2018, and Semaan returning for the upcoming 2019 campaign.
Under the current scoring system, schools are required to count point totals for four main sports (football, volleyball, men's basketball and women's basketball) along with their next eight highest point totals from the remaining sports, regardless of gender. Belmont, Morehead State and SIUE, which do not compete in OVC football, count baseball as one of its four required sports.
The award (which started in 1962-63 for men's sports and 1980-81 for women's sports) was previously divided into a Men's All-Sport Champion and a Women's All-Sport Champion.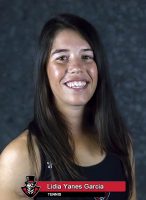 The points system for scoring is as follows. For all sports (except rifle, men's tennis and men's indoor and men's outdoor track – which have fewer participating teams), the first-place team earns 12 points, the second-place team earns 11 points, etc.
For rifle, men's tennis and men's indoor and men's outdoor track and field, the first-place team earns 12 points and subsequent point increments are calculated by dividing the total number of OVC member institutions by the number of institutions sponsoring the sport (for rifle that number is 3 less, for men's tennis and men's indoor track that number is 1.75 less and for men's outdoor track that number is 1.5 less).
The scoring system also includes a bonus point for the winner of OVC Tournaments (soccer, volleyball, basketball, tennis, softball and baseball).