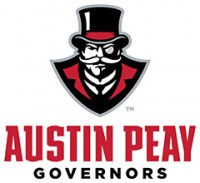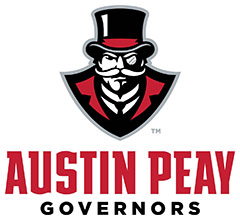 Brentwood, TN – Austin Peay State University (APSU) student-athletes continued to shatter records in the classroom, the Ohio Valley Conference announcing 126 Governors were recognized on its Commissioner's Honor Roll, Monday.
The 126 Austin Peay student-athletes – nearly 40 percent of all the department's athletes – named to the Commissioner's Honor Roll topped the record set last year and is the fourth time since 2001 more than 100 student-athletes were recognized in a single year. The Govs were part of an OVC-record 1,379 student-athletes recognized on the honor roll.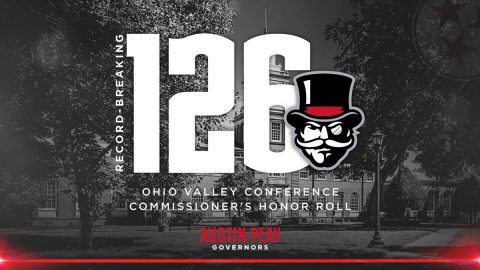 "The foundation of our 'Total Gov' concept is achieving at a high level in all that we do as Governors," said Austin Peay Director of Athletics Gerald Harrison.
"We are proud to see over one-third of our student-athletes receiving recognition on the OVC Commissioner's Honor Roll. It is a testament to the amount of work our student-athletes and student-athlete support services staff put in every day to put academics first," Harrison stated.
To be recognized on the OVC Commissioner's Honor Roll a student-athlete must have achieved at least a 3.25 grade-point average, have been eligible and on the team throughout the competitive season in their chosen NCAA-sponsored sport(s) and used a season of competition.
Austin Peay State University student-athletes broke academic several records during the 2018-19 academic year. A record 32 Governors received the OVC Academic Medal of Honor, Monday. APSU student-athletes also set the overall single-semester GPA record with a 3.152 mark in the fall and followed that with a 3.096 mark to set the spring semester GPA mark. All told, APSU athletes posted a 3.14 GPA during the 2018-19 academic year, setting another department record.
The OVC releases the Team Academic Achievement Award winners and the overall Academic Achievement Award, Wednesday.
2018-19 OVC Commissioner's Honor Roll: Austin Peay State University honorees

Baseball (17)
Gino Avros
Andrew Flaherty
Harley Gollert
Tyler Hubbard
Matthew Joslin
David Martinez
Sebastian Martinez
Brett Newberg
Parker Phillips
Jacques Pucheu
Max Remy
Josh Rye
Alex Sala
Garrett Spain
Tyler Thompson
Brandon Vial
Ross Walker
Men's Basketball (2)
Zach Glotta
Terry Taylor
Women's Basketball (9)
Michaela Campbell
Logan Carger*
Nieja Crawford
Arielle Gonzalez-Varner
Gabby Gregory
Keisha Gregory
Kasey Kidwell
Maggie Knowles
Myah LeFlore
Men's Cross Country (6)
Andrew Abel
Daniel Davis
Wesley Gray
Hezron Kiptoo
Joseph Redman
Nash Young
Women's Cross Country (6)
Alura Endres*
Larin Harr*
Molly Howard*
Caroline Kiplagat*
Madison Morstad*
Mikaela Smith*
Football (9)
Evan Beddoe
Logan Birchfield
Matthew Gayle
Jarrett Giacchino
Michael Hoover
Chris Hopkins
DJ Montgomery
Jeremiah Oatsvall
Trey Pruitt
Men's Golf (8)
Michael Busse
Micah Knisley
Chase Korte
Austin Lancaster
Sam Lopez
Jordan Rodriguez
Alex Vegh
Garrett Whitfield
Women's Golf (8)
Riley Cooper
Shelby Darnell
Taylor Dedmen
Ashton Goodley
Taylor Goodley
Reagan Greene
Andrea Presilla
Meghann Stamps
Women's Soccer (15)
Brice Bement
Rachel Bradberry
Kaitlin Constantino
Jade Dauriat
Meghan Dees
McKenzie Dixon
Morgan Drawdy
Claire Larose
Delanie McKeon
Mary Powell
Peyton Powell
Renee Semaan
Jennifer Smith
Abigail Therrell
Ashley Whitaker
Softball (13)
Kacy Acree
Victoria Eccleston
Kelsey Gray
Kelsey Gross
Brett Jackson
Katie Keen
Kelly Mardones
Carly Mattson
Emily Moore
Lexi Osowski
Morgan Rackel
Natalie Schilling
Katelyn Smith
Men's Tennis (8)
Oliver Andersson
Anton Damberg
Christian Edison
Timo Kiesslich
Jacob Lorino
Almantas Ozelis
Hunter Sanders
Chad Woodham
Women's Tennis (6)
Ana Albertson
Helena Kuppig
Danielle Morris
Fabienne Schmidt
Claudia Yanes Garcia
Lidia Yanes Garcia
Women's Track & Field (15)
Morgan Bradley
Alura Endres*
Nia Gibbs Francis
Larin Harr*
Denia Hill-Tate
Dascha Hix
Molly Howard*
Allana Johnson
Caroline Kiplagat*
Emmaculate Kiplagat
Kori McDaniel
Madison Morstad*
Mikaela Smith*
Jacklyn Verseman
Lennex Walker
Volleyball (11)
MiMi Arrington
Logan Carger*
Cecily Gable
Ginny Gerig
Karli Graham
Nina Korfhage
Brooke Moore
Jenna Panning
Chloe Stitt
Kaylee Taff
Haley Turner