Clarksville, TN – The Customs House Museum and Cultural Center is located in historic downtown Clarksville, Tennessee. Come explore an entire city block featuring large gallery spaces filled with fine art, science and history.
Some of the events in September at the Museum are: Organic Abstract: The Art of Jennifer Bowman, The Magical Stories of Cathy Horner, Scouts, Junior Explorers: Fossil Facts & Fun! and Little Explorers: Dino Delight.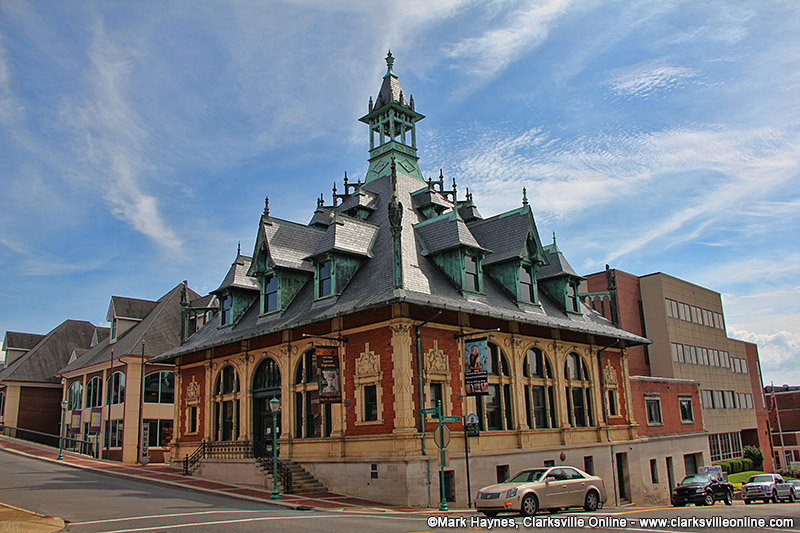 Customs House Museum Exhibits
Landy R. Hales: American Master of The Layer Poster & Fashions of the Time
October 2nd–December 31st| Kimbrough Gallery
Landy R. Hales was a well-known designer in New York City in the 1920s and 1930s. Later in life, from age 60 to 82, he used his design experience and patented techniques to create an extensive, colorful body of work based on personal themes. Mr. Hales made each poster by hand using coping saws, chisels and wood files. Supplementing the art are fashions from the Museum collection.
Organic Abstract: The Art of Jennifer Bowman
October 25th–January 13th | Crouch Gallery
Kentucky native, Jennifer Bowman is a self-taught contemporary non-objective abstract artist. Her work continues to develop a strong following and has been shown on HGTV, as well as being included in the collections of Taylor York (Paramore), Billy Ray and Tish Cyrus, Holly Williams (musician/daughter of Hank Williams, Jr.), other music legends, and professional athletes.
The Magical Stories of Cathy Horner
Through November 3rd | Harvill Gallery
Cathy Horner's collage art is inspired by her 100 year old farm house in Johnson City, TN. At an early age she discovered that she loved to create. By age forty-eight she found her muse in the art of collage. Horner's collage art quickly found its way into art galleries and collectors' homes. Her art is carefully crafted from her collection of ephemera from old magazines, newspapers and catalogs, coupled with her appreciation for all things antique and vintage.
Scouts
Through November 24th | Lobby Gallery
For over 100 years, scouting organizations have shaped our youth through engaging experiences to build character and develop skills. This exhibit explores the evolution of scouting in Montgomery County through items in the Museum's Collections. Featured items include an edition of the first Girl Scouts of America Handbook and a TN 1986 Bicentennial Celebration quilt.
The Biggest and Most Important Things: A Duo Exhibition by Michelle & Aaron Grayum
Through October 23rd | Orgain/Bruner Galleries
Michelle and Aaron Grayum have owned and operated the graphic design firm The Gray Umbrella in Nashville for more than nine years while raising their 11-year-old son. The Biggest and Most
Important Things marks the first time in four years that this talented couple, celebrating 18 years of marriage in August, has collaborated on a show together.
Odyssey: An Exhibition of Recent Works by Paul Harmon
Through October 20th | Crouch Gallery
Paul Harmon is an internationally exhibited artist who for 11 years, from 1986 to early 1998, divided his time between studio/residences in Paris, France and Brentwood, Tennessee. His time abroad still plays a role in his work. Within the more than fifty works shown, are some of Harmon's signature themes of reclining nudes and literary references.
Jim Diehr: Imagined Perspectives
Through October 29th | Jostons Gallery
Artist Jim Diehr's work showcases his interest in the use of symbols found in religion and mythology. Diehr served as a college professor and administrator for many years in Kansas and Tennessee. Recently retired, Diehr is a full-time artist. This exhibit includes both paintings and sculptures.
Programs and Events
Little Explorers: Dino Delight
Fridays, October 4th, 11th, 18th, 25th | Explorers' Landing | Drop-in between 10:30–11:30am.
Free with paid admission or membership | Ages 2 – 5 with adult caregiver
Toddlers will enjoy playing in a sand sensory bin that contains lots & lots of toy mini-dinosaurs. Preschoolers will have fun pretending to be paleontologists by using trowels and paintbrushes to excavate toy dinosaur skeletons buried in a mock dig. Dig up skeletons of Tyrannosaurus Rex, Stegosaurus, Triceratops, Pterodactyl, and more. Parent and child will discover lots of cool things about dinosaurs as they examine larger toy dinosaur models. Explore the size, weight, and diet of each dinosaur as you match the dinosaur models to illustrations in a full color book. Walk the dinosaurs around on top of "mud" and see what kind of trace fossils they leave behind. Finally, create an imprint of a dinosaur skeleton fossil in a piece of "mud" to take home!
Warning: Activities include items that may be a choking hazard. All parents must supervise their children.
Junior Explorers: Fossil Facts & Fun!
Saturdays, October 5th & 19th | Family Art Studio | Drop-in between 2:00pm–4:00pm.
Free with paid admission or membership | Grades K & above with adult caregiver
National Fossil Day is in October. Examine, investigate, and identify real fossils in this hands-on, mind-on activity. Sort through a box of small fossils and fossil fragments; find about 20 different
fossil organisms. Through close observation, identify each fossil or fossil fragment by matching it to one of the color photos of the fossils found in the box.
Maybe you'll look at a 150 million year-old stingray tooth under a magnifying glass. Wouldn't it be fun to hold a 200 million year old coprolite (fossilized poop) in your hand!? Learn interesting and important information about fossils from descriptions on the fossil cards provided. Kids grades K–6th can also create a "fossil" imprint of a small toy dinosaur skeleton in a piece of "mud" to take home!
Sunday Family Fun Learning Day: What do you do when the clothes dryer quits?
Sunday, October 20th | Family Art Studio | Drop-in between 1:00pm–4:00pm.
Free with paid admission or membership | For all ages at parents discretion
Thanks to electricity and modern technology, our lives are not as governed by the elements (rain, wind, sun – or lack of it) as they once were. However, when the power goes out or our machines stop working we must revert to the "old ways" of doing many things.
Without electricity people washed their clothes in tubs of water that had been heated over a big fire outside. To dry them, women laid the clothes on the ground, hung them on bushes or fences, and on clothes lines. But without the sun, they remained sopping wet.
Visit the Family Art Studio to learn how the sun dried the clothes and helped the early settlers in many other ways. Hear the story, "How the Sun Was Brought Back to the Sky" and "The Day Jimmy's Boa Ate the Wash." Compare how children's illustrators "see" the sun. Create your own sun painting or drawing. Make a clothespin person to take home.
This activity was created as part of the Tennessee STEAM Festival. The Tennessee STEAM Festival connects us to science, technology, engineering, art, and math found everyday and everywhere in order to inspire generations of STEAM champions. Learn more at tnsteam.org
First Thursday Art Walk
Thursday, October 3rd | 5:00pm–7:00pm.
The Museum is open to the public with free admission as part of Downtown Clarksville's First Thursday Art Walk. Meet Johnson City, Tennessee collage artist Cathy Horner and see her exhibit in the Museum's Harvill Gallery.
Second Saturday Free Admission Day
Saturday, October 12th | 10:00am–5:00pm.
The Museum is open to the public with free admission all day from 10:00am – 5:00pm as part of our monthly Second Saturday Free Admission Day.
All Aboard! Seasons: The Museum T-Shirt Design Contest
Entry Deadline October 15th
Children ages 3-12 can create an original drawing inspired by the Museum's Huff & Puff Model Trains for a chance to have their design chosen to be printed on new kids t-shirts to be sold in Seasons. Stay tuned for more details!
Member Appreciation Movie Night
Friday, October 25th | Doors open at 6:30pm, feature presentation starts at 7:00pm.
Geraldine Brame Turner Auditorium (located inside the Museum)
Come celebrate the Halloween season with an exclusive, Member Only family-friendly movie night! On Friday, October 25th the Museum will present Disney's "Hocus Pocus" in the Geraldine Brame Turner Auditorium. Doors open at 6:30pm and the movie starts at 7:00pm. Complimentary movie themed snacks will be served. Members must present their membership card at the door to attend.
If you need to purchase or renew your membership visit us online at customshousemuseum.org/contribute/membership
Seasons: The Museum Store
Jewelry Sale
Enjoy 10% off (members receive 20% off) all jewelry purchased during the month of October at Seasons: The Museum Store. Offer ends October 31st, 2019.
About the Customs House Museum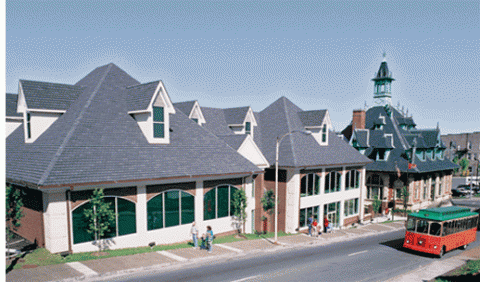 Located in the heart of historic downtown Clarksville, Tennessee, the Customs House Museum and Cultural Center is the State's second largest general museum. The original portion of the building was constructed in 1898 as a U.S. Post Office and Customs House for the flourishing tobacco trade. Incorporating a number of architectural styles, the original structure is one of the most photographed buildings in the region.
With over 35,000 square feet of the region's best hands-on activities and special events…people of all ages agree – the Customs House Museum is well worth the stop!
The Explorer's Gallery is packed with fun, learning and fantasy in Aunt Alice's Attic, McGregor's Market and kitchen, and of course – the Bubble Cave! Finally, get "all aboard" to see our fantastic model trains. Our volunteer engineers "ride the rails" every Sunday afternoon from 1:00pm to 4:00pm.
Regular museum hours are 10:00am to 5:00pm Tuesday through Saturday, and 1:00pm to 5:00pm on Sundays. Adult admission is $7.00, Senior Citizens and College ID $5.00, Ages 6 to 18 $3.00, and under six years and Museum members are free.
The Customs House Museum is located at 200 South Second Street. For more information, call 931.648.5780 or visit their website at www.customshousemuseum.org