Clarksville, TN – The Austin Peay State University (APSU) ROTC Ranger Challenge team will try to make the podium for the second straight year at the 7th Brigade ROTC Bold Warrior Challenge October 25th-27th, 2019 at Fort Knox, Kentucky.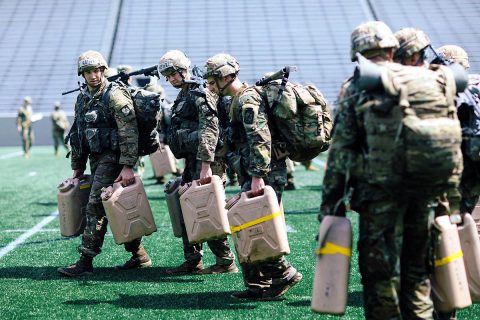 The Bold Warrior is a grueling, two-day challenge that last year pushed the cadets during six straight hours of competition the first day and 16 hours the second day.
Cadets covered about 40 miles of terrain during the two days, much of the time carrying ruck sacks.
Organizers are promising a tougher challenge this year.
"This year they're telling us there's no way you can complete every station, it's more like a marathon, you can't gas out, you have to finish the same way you start," Ranger Challenge team co-captain Daniel Cole said. "There's going to be a lot more unknown about the competition so we have to go in there with strategies to execute the small things, any kind of problem-solving event, ready to make quick decisions."
The team finished runner-up at last year's Bold Warrior, a result that qualified Austin Peay State University for the first time ever for the Sandhurst global military skills competition at the U.S. Military Academy at West Point, New York.
Trying to get back to Sandhurst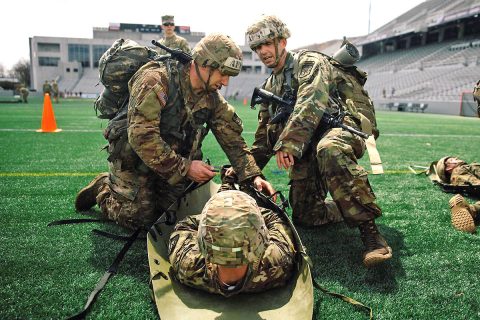 The team's goal is to qualify again for Sandhurst, where is finished eighth among the country's ROTC programs.
"Right now, I think we're right on par with what we set last year as far as the physical aspect, which is a very big piece of it," Cole said. "As we get closer to the competition, we'll start getting down to the technical side – we have to execute as a team to be successful."
Added co-captain Walt Higbee: "Last year we only trained four days each week. This year we've gone straight to five. Our freshmen are pretty strong this year, but we don't have as much experience as last year as far as military experience."
Seven of the team members who competed at Sandhurst in the spring had prior service in the military before coming to APSU.
More than 30 teams are competing instead of last year's 18 from the brigade, which includes universities from throughout Michigan, Indiana, Ohio, Kentucky and Tennessee. Central State University won the Bold Warrior last year.
"I think we're going to be very competitive," Cole said. "I hope it's going to be a podium finish."
To learn more about the Austin Peay State University ROTC program, go to www.apsu.edu/rotc/