Nonprofits invited to create gratitude cards together at the Habitat for Humanity Restore with Arts for Hearts Clarksville Creative Volunteers.
Clarksville, TN– The season of gratitude is upon us and we know that many nonprofit professionals would like to express thanks for the special donors, volunteers and supporters that make it possible to achieve their mission.
Thanksgiving will be here soon and Arts for Hearts would like to give all nonprofit organizations a chance to create some special thank you cards with our Creative Volunteers.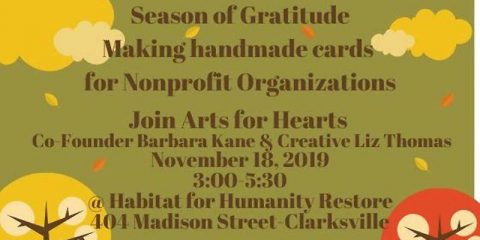 Nonprofits are invited to join the Arts for Hearts team at the Habitat for Humanity Restore located at 404 Madison Street, Clarksville on November 18th from 3:00pm-5:30pm to make cards for the season.
Register at Eventbrite: https://www.eventbrite.com/e/79067566219
About Arts for Hearts Clarksville
Arts for Hearts is a program of the Arts and Clarksville-Montgomery County Heritage Development Council. The program provides free art classes/workshops throughout the Clarksville area. Since June 2016, volunteers have hosted over 300 classes for people of all ages offering creative opportunities to more than 3500 participants.
Our mission is to bring the joy that comes with creating art to everyone in our community. The mobile art program inspires creativity, connects community and enriches lives.
To learn more about Arts for Hearts community art program visit www.artsforheartsclarksville.org