Clarksville, TN – The Austin Peay State University (APSU) football team has eyes on the top spot in the Ohio Valley Conference when league-leading UT visits Fortera Stadium for a 3:00pm, Saturday, November 9th, 2019, Homecoming contest presented by Coca-Cola.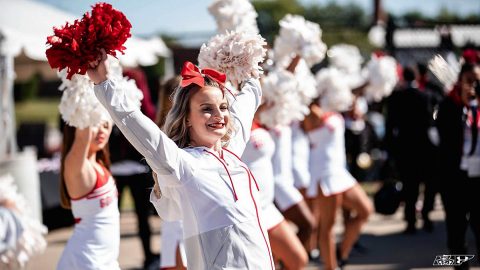 Homecoming & Veterans Day Parade
Austin Peay State University's annual Homecoming Day Parade and the Clarksville-Montgomery County Veterans Day Parade will begin at 10:00am from the corner of Eighth Street and College Street, next to the Sundquist Science Building. Due to the timing, there is increased participation with more than 150 entries signed up in this year's parade.
The parade will proceed down College Street left onto University Avenue, right onto Main Street, left onto Third Street (where it will pass the reviewing stand at the courthouse), left onto Commerce Street, left onto University Avenue, right onto Franklin Street, left onto Eight Street and back to the APSU parking area.
88th Austin Peay Homecoming
A full week of Homecoming events began Monday night and will continue with events around campus leading up to Homecoming Day. For this week's calendar of events visit the Austin Peay Homecoming page.
Coca-Cola Game Sponsor
The first 5,000 fans at Saturday's game will receive a free reusable cup presented by Coca-Cola.
Game Day Ticket Offer
Fans attending the Homecoming & Veterans Day Parade will have the opportunity to take advantage of a special ticket offer from 10:00am-noon, Saturday, with Austin Peay State University athletics offering a $10.00 general admission rate at the box office only.
Stache Street
The APSU athletics department invites students and families to enjoy Stache Street prior to Saturday's football game. A new addition to the Governors pregame offerings in 2019 is Stache Street.
Taking over Marion Street from the Foy Center to Henry Street, the newest pregame entertainment area will provide fans the opportunity to enjoy an array of food truck options, inflatable and mobile games as well as live entertainment.
Beginning at 10:00am fans, students, families and visitors will be able to walk along Stache Street and enjoy the newest offering until 30 minutes prior to kickoff (2:30pm). At 3:00pm, Marion Street will reopen to the public but the food trucks will remain available throughout the game for fans to visit. However, food purchased outside Fortera Stadium may not be brought into the facility.
Food truck options at Stache Street for the UT Martin game include Legends Smokehouse BBQ, Santa's Fine Food Castle and Kimo's Hawaiian Grill, Dunkin', Coca-Cola and Monster Energy Drinks.
Beer Garden
A new feature at Fortera Stadium in 2019 is the Beer Garden. Trained and licensed servers will sell beer in the Beer Garden located in the southeast corner of the stadium property, across the field from the current VIPeay Endzone experience.
Fans wishing to purchase alcohol must be 21 years or older and obtain a wristband that will be provided at the beer garden located in Fortera Stadium and have that wristband on when purchasing alcohol in the stadium. Patrons consuming alcohol must be able to produce a valid photo ID at all times. Stadium personnel may ask to see an ID at locations away from the point of sale.
Beer sales will begin once the gates are opened to the public and conclude at the end of the third quarter. At no time will alcoholic beverages be allowed to leave the Beer Garden. A complete guide to Austin Peay athletics Beer Garden policies is available by visiting LetsGoPeay.com/beergarden.
VIPeay End Zone Experience
After a successful debut in 2018, the VIPeay End Zone Experience has returned for the entire 2019 season with single-game options ($25.00 each) now available through pre-purchase only online at LetsGoPeay.com/BuyTickets or by calling the APSU Athletics Ticket office at 931.221.PEAY.
Nestled adjacent to the Hendricks Fox Walk of History, the VIPeay End Zone Experience area offers ticket holders premium in-game food and adult beverage accommodations along with a place to mix and mingle with other Austin Peay State University fans.
With a unique field-level view of the action, as well as televisions to monitor other college football action around the country, fans can enjoy an experience unmatched in the Ohio Valley Conference. This season, the VIPeay End Zone Experience will open 90 minutes prior to kickoff and will remain open through the end of halftime.
Tailgate Alley
For the ninth consecutive season, Austin Peay State University athletics will present Tailgate Alley in Lot 6 (Foy Lot), which is sold out for the Govs' Homecoming Game. Single-game spaces in the overflow lot (Lot 50) next to the Dunn Center are available for $20.00 per game and season-long passes to Tailgate Alley are available to Monocle Society members.
Beginning at 9:00am, fans will be able to take their reserved spots in Tailgate Alley. The Govs Walk begins at approximately 12:40pm.
APSU Govs Walk
The Govs Walk will begin at 12:40pm and is where the football team will make their on-campus entrance. Fans are encouraged to join the band and cheer team as we cheer on the football team during their walk to Fortera Stadium. The Govs Walk will start at the beginning of Tailgate Alley, closest to the softball stadium.