Brentwood, TN – Austin Peay State University (APSU) men's basketball players Terry Taylor and Jordyn Adams have been named Ohio Valley Conference Men's Basketball Player and Freshman of the Week, respectively, for their performances in wins against Tennessee State and Belmont last week.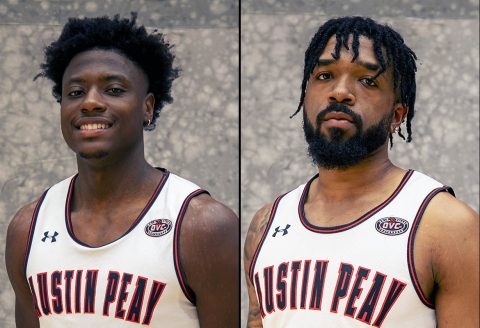 The honor is Taylor's seventh from the league in 2019-20 and Adams' sixth; they've now been honored in the same week on four separate occasions (November 25th, December 23rd, January 6th).
Taylor backed up the honor by also earning CollegeInsider.com's National Player of the Week award as well.
Taylor remained a difficult proposition for the OVC last week, picking up his eighth and ninth double-doubles of the season. He exploded for 37 points and 14 rebounds against Tennessee State, setting the Dunn Center record for three pointers made without a miss (six) and put up a 20-and-10 in the second half alone against the Tigers.
With Belmont throwing constant double-teams at him Saturday, Taylor made his impact on the glass, racking up a season-high 17 rebounds—most by an OVC player in 2019-20—and scoring all 13 of his points in the second half to spur a comeback win against the Bruins.
For the week, Taylor averaged 25.0 points 15.5 rebounds, hitting 64.3 percent (18-for-28) from the floor, 70.0 percent (7-for-10) from three and 87.5 percent (7-for-8) at the line. He's now one behind Morehead State's Kenneth Faried (2010-11) and Murray State's Ja Morant (2018-19) for most in a single season with five weeks of awards still to be decided.
Adams was once again incredible last week, leading the OVC in scoring thanks in part to his career-best 37-point effort against Tennessee State, which included 28 points just in the first half, and equaled the Division I high for a freshman in 2019-20. He led all scorers with 24 points against Belmont, including 11 over the final 6:16 of the first half which included a buzzer-beating three from beyond halfcourt. The Silsbee, Texas native also handed out a career-high six assists against the Bruins.
For the week, Adams put up 30.5 points and 3.5 assists, hitting 50.0 percent (20-for-40) from the floor, 41.2 percent (7-for-17) from three and 87.5 percent (14-for-16) at the charity stripe. His six Freshman of the Week honors in 2019-20 is the most by a Gov since Chris Horton's nine in 2012-13.
Taylor, Adams and the Govs are back home this week to take on SIU Edwardsville and Eastern Illinois in the Dunn Center. Visit www.LetsGoPeay.com/buytickets to get your seats and see one of the best duos currently performing in Division I basketball.