Austin Peay (19-9 | 13-2 OVC) at Eastern Illinois (13-14 | 6-9 OVC)
Saturday, February 22nd, 2020 | 3:15pm CT
Charleston, IL | Lantz Arena

Clarksville, TN – With a game up and momentum on its side, the Austin Peay State University (APSU) men's basketball team can't afford any slip-ups in Saturday's 3:15pm battle against Eastern Illinois at Lantz Arena in Charleston, IL, to close out the penultimate Ohio Valley Conference weekend.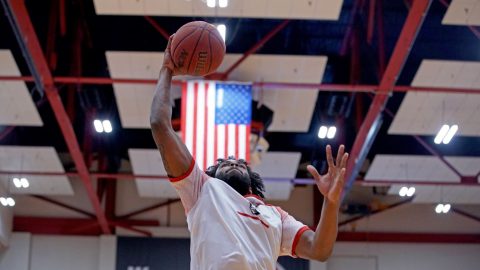 The scenario, at present, is very straightforward: if the Govs win their final three games, they will be the outright OVC regular season champion for the first time since 2007-08.
That begins against Eastern Illinois, which played Austin Peay State University to within four points in Clarksville to begin February and posted one of the league's wilder wins Thursday night in toppling Murray State.
The Govs and Panthers will both hound the other defensively; both teams force more than 15 turnovers per night. The difference in the February 1st game in Clarksville was that 17 EIU turnovers became 24 Governor points, while the Panthers turned 16 Austin Peay State University miscues into just 15 points.
About the Eastern Illinois Panthers
The APSU Govs have the Panthers to thank for helping them gain sole possession of the Ohio Valley Conference lead; Eastern Illinois erased a 27-point deficit to stun the Racers on a late Josiah Wallace three-pointer, Thursday night.
The Panthers under Jay Spoonhour have been one of the teams embroiled in the fight for the bottom-four seeds in the league, and Thursday's win will give them both a signature victory when tiebreakers come into play and an influx of confidence.
The Panthers are going to defend. Eastern Illinois blocks nearly five shots and steals nearly eight balls per game, both among the top-100 in the nation. A predilection for ball control has Eastern Illinois at plus-2.3 in turnover margin, a top-50 mark helped by a 15.19 mark in turnovers forced per night. And among league brethren, Eastern Illinois' opponent scoring (69.4 ppg) and field goal percentage (42.2 percent) marks are near the top of the league.
Wallace, the hero of Thursday's affair, leads four active Panthers averaging at least 9.5 points per game. Mack Smith's 76-game streak with a made three-pointer is the longest active streak in Division I. And George Dixon will pose problems down low for the Govs; averaging 11.7 points and 8.9 boards; Terry Taylor and Eli Abaev will work to limit his ability to affect the game on the glass.
Austin Peay State University's Last Game Against Eastern Illinois
The Panthers pushed the Govs to the limit in a 68-64 Austin Peay State University win back on February 1st in the Dunn Center. The Govs trailed by as many as 13 points in the first half before righting the ship thanks in part to a 20-5 advantage in fast break points.
Eli Abaev found the go-ahead bucket with 10.2 seconds to play and Terry Taylor tipped home a missed free throw and stole the ensuing inbounds pass to clinch the win.
Keep An Eye On
A win would give Austin Peay State University back-to-back 20-win seasons for the first time since 2006-07 and 2007-08.
Since the start of league play, Austin Peay State University is controlling the glass and maintaining possession–two keys to league success. The APSU Govs are at plus-5.7 in average rebound margin and plus-3.0 in turnover margin since OVC play began, January 2nd.
Taylor is one of five active Division I players who has shot better than 50 percent from the floor (54.2), 35 percent from three (35.1) and 70 percent at the line (72.0) for his career.
Freshman Carlos Paez's 88.2 percent mark at the line on 67-of-76 attempts is one make ahead of the single-season record.
Jordyn Adams
needs 22 points to become the third freshman in program history to reach 500 points in his first season. He also needs a trio of three-pointers to become the third freshman in program history with 50 treys in his first campaign.
A win would make Austin Peay State University head coach Matt Figger the first coach in program history with two 20-win seasons in his first three years at the helm.
Milestone Watch
Taylor needs five more made field goals to become the sixth player in program history with 700 career makes. With two more rebounds, he'll become the seventh player in program history with a 300-rebound season.
APSU Tickets
Governors Courtside Seating is winding down for the 2019-20 season. Fans can contact the APSU Athletics Ticket Office for courtside seating availability and pricing. The VIPeay Hoops Experience, available to Black Tie Monocle Society members and above, also returns for 2019-20 after a successful debut last season.
For more information on joining the Governors in the Dunn Center this winter or to become involved with the Monocle Society, call 931.221.PEAY.
You can also purchase tickets online at www.LetsGoPeay.com/buytickets; be sure to access the new 360-degree view of the Dunn Center when purchasing tickets. All-session packages for the 2020 OVC Basketball Tournament are now available through the Austin Peay State University ticket office for $80.00.
Austin Peay State University Online
Check back at LetsGoPeay.com and on Austin Peay State University's Official Athletics Facebook page often for up-to-date news about all Governor athletics, as well as the APSU Governor men's basketball Twitter page (@AustinPeayMBB). Live stats will be available during the game at PeayStats.com, and all home games and Ohio Valley Conference games can be viewed on the ESPN+ app.