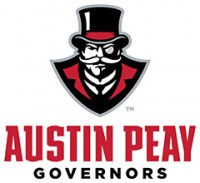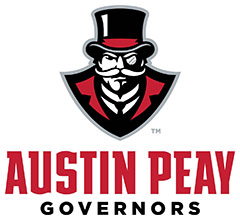 Clarksville, TN – The Austin Peay State University (APSU) Division of Alumni, Engagement, and Philanthropy along with The Monocle Society will add four members to the Governors' Red Coat Society, during ceremonies February 18th, 2023.
Patty Rye, Brad, and Jan Kirtley, and the late Khandra Smalley will each be inducted into the Red Coat Society during halftime of the Austin Peay State University-North Florida men's basketball game, which begins on February 18th at 3:00pm CT.
The Governors' Red Coat Society is a Hall of Fame for service to APSU athletics. The society was established in 2004 to honor those individuals who have provided longtime support to Governors athletics. The 2021 class is the 19th inducted into the Red Coat Society, which grows to 52 inductees with this year's class.
Rye, a Clarksville native, can often be seen at the scorer's table during Governors' volleyball and basketball contests assisting with timing and scoring during those events. In addition, she has assisted with several athletics fundraisers and been involved with efforts to provide meals to student-athletes after games as part of the "Govs Gang."
The Kirtleys are long-time supporters of Austin Peay State University. Brad, a native of Cape Girardeau, Missouri, served as the athletics department's sports information director for 32 years. Jan, a 1978 Austin Peay business graduate, has long supported the Governors, particularly during her more than 30 years at Trane Company. The pair created an endowment to assist students looking to enter the athletics communications field and supported the athletics department as a whole for several decades in numerous ways.
Smalley graduated with a master's degree from Austin Peay in 2005 and then served as an adjunct professor at APSU, teaching marketing for 15 years. She was a member of the senior staff at F&M Bank for more than 27 years, first as a vice president and then as senior vice president of marketing research.
Smalley served as a mentor to Governors' student-athletes who had a mind for the business world. She was part of many initiatives at Austin Peay, the most recent being the Governors' "LeadHer" initiative, which supports our female student-athletes here at Austin Peay.
Austin Peay State University extends membership in the Red Coat Society to individuals who have been members in good standing of the Monocle Society or its predecessors for at least five years, supported the athletic programs at Austin Peay State University through financial contributions or participation in Monocle Society fundraisers and other events and provided support to more than one sport, both at home and away, whenever possible and are recognized within the APSU community for their association with Austin Peay State University athletics.

The society, a Hall of Fame for service to the APSU Athletics Department, was established in 2004 to honor longtime supporters of Governors athletics.
APSU Red Coat Society Induction Classes
2022 – Patty Rye, Brad and Jan Kirtley, and Khandra Smalley
2021 – Dr. Jeannie Beauchamp, Ed Bunion, Tom Jones, and Eunice Washington
2020 – L.M. Ellis, L.W. Harris, and Vanessa Hollis
2019 – Joe, and Cathi Maynard, and Ron Morton
2018 – Jeff Bibb, and Ricky Cooksey
2017 – Sherwin Clift, and Dr. Don Luck
2016 – Ed Baggett, and Dave Luther
2015 – Terry Griffin, and Hal Mathews
2014 – Hendricks Fox, Dr. Tim Hall, and Jack B. Turner
2013 – Charles Hand
2012 – James Corlew, Don Jenkins, and Gary Mathews
2011 – Dr. Bruce Myers
2010 – Jimmy Dunn
2009 – Jerry Nass, Mike O'Malley, and Mike Schrecker
2008 – Dwight Dickson, Paula Hallett, and Len Rye
2007 – Bill Atkins, Dr. Sherry Hoppe, Dr. Gaines Hunt, and Bill Roberts
2006 – Lawrence Baggett, Evans Harvill, Zoot Parker, and Carolyn Yarbrough
2005 – Don Corlew, Davis McCutchen, Bobby Mills, and Edmund Terrell
2004 – Brandon Buhler, Perkins Freeman, Richard Hardwick, and H.R. Wortham