Topic: Chevrolet Cruze

Clarksville, TN – Clarksville Police continue to actively investigate the carjackings which took place between July 19th and July 21st, 2015. Police have made another arrest in conjunction with those carjackings.
This arrest involves a 16 year old juvenile who has been tied to the carjacking which took place July 19th about 1:30am in the 1500 block of Nolen Road in which a 2016 Chevrolet Cruze was taken.
«Read the rest of this article»
Troublesome Q50, QX60 models drop Infiniti 14 spots; Lexus tops rankings

Yonkers, NY – Multi-function, cross-linked infotainment systems and the associated in-car electronics are a growing reliability plague for many brands, according to Consumer Reports 2014 Annual Reliability Survey.
First-year models from Infiniti, Jeep, Fiat, Ram, Cadillac, Ford, and Honda have all seen significant problem rates from infotainment bugs and glitches. Of the 17 problem areas CR asks about in its survey, the category including in-car electronics generated more complaints from owners of 2014 models than for any other category. «Read the rest of this article»
Fuel Economy, Acceleration No Better than in Conventional Powertrains

Yonkers, NY – Although small turbocharged engines are marketed as delivering the power of a large engine, with the fuel economy of a smaller one, Consumer Reports tests have found that they often fall short of expectations.
Many turbocharged cars tested by CR have slower acceleration and no better fuel economy than the models with bigger conventional engines. «Read the rest of this article»
Audi and Cadillac make major jumps in Rankings

Yonkers, NY – A perfect storm of reliability problems has dropped Ford to next to last among the 28 car brands ranked in Consumer Reports 2012 Annual Auto Reliability Survey, while its luxury brand, Lincoln, placed just a notch higher. The findings were released today before the Automotive Press Association in Detroit.
Only two years ago, Ford was Detroit's poster child for reliability. It cracked the top 10 among brands in Consumer Reports predicted-reliability scores, with more than 90 percent of its models being average or better. This year the top seven spots are all held by Japanese brands. «Read the rest of this article»
Michelin and Continental Models come out on Top. Test of 78 models finds several good choices.

Yonkers, NY – When it comes to Consumer Reports latest tests of all-season and winter replacement tires, Michelin and Continental lead the way. However, tests revealed that worthy tires were not difficult to find and many provided good overall performance.
In total, Consumer Reports tested 78 models of All Season and Winter Tires: 20 T-speed-rated (118 mph) all-season tires, 20 H-speed-rated (130 mph) and 22 V-speed-rated (149 mph) performance all-season tires, and 16 winter tire models. «Read the rest of this article»
Clarksville, TN –
In the spirit of teamwork taught by youth sports, James Corlew Chevrolet Cadillac is teaming up with Royals Futbol Club to provide their players and coaches with soccer kits filled with equipment bags, pop-up nets, sport cones, scrimmage vests, t-shirts, a sponsorship check and an opportunity to help them raise funds.
Royals Futbol Club will have the opportunity to raise as much as $10,000 through a fundraising opportunity where one lucky recipient will win his or her choice of a 2012 Chevrolet Equinox or 2012 Chevrolet Cruze. Another lucky winner will receive a Home Entertainment Package.
«Read the rest of this article»

Clarksville, TN – On August 21st, 2012, around 12:30am, a verbal argument between neighbors turned physical, resulting in six people going to jail.
The chain of events began when Charles Clemons was assaulted in his front yard at 913 Power Street by a neighbor, Ryan Kobold, from 914 Power Street after they had a verbal argument over property items.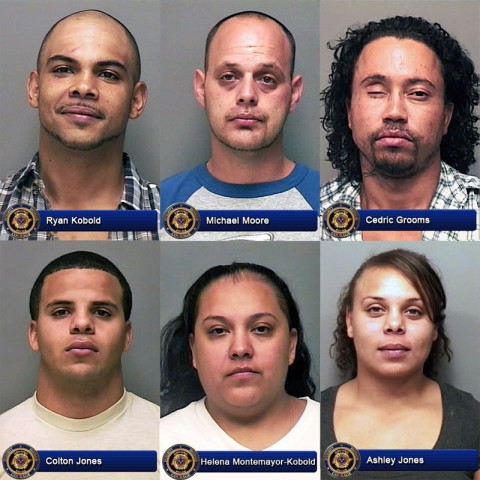 «Read the rest of this article»
Ford Focus and Kia Forte score Very Good in tests of small sedans and hatchbacks

Yonkers, NY – The highly anticipated redesigned Honda Civic LX, whose predecessors have often been Consumer Reports' highest rated small sedans as well as Top Picks in five of the last 10 years, now scores too low to be Recommended by the leading automotive testing organization.
The redesigned Civic LX's score dropped a whopping 17 points to a mediocre 61 from the previous generation's very good 78. It scored second-to-last in CR's ratings of 12 small sedans, followed only by the recently redesigned Volkwagen Jetta. Consumer Reports' testers found the 2012 Civic to be less agile and with lower interior quality than its predecessor. It also suffers from a choppy ride, long stopping distances, and pronounced road noise. On the positive side, the Civic provides decent rear-seat room, and it achieved 30 mpg overall, which gives it the second-best fuel economy in its class—behind only the Toyota Corolla's 32 mpg.
«Read the rest of this article»