Clarksville, TN – On August 21st, 2012, around 12:30am, a verbal argument between neighbors turned physical, resulting in six people going to jail.
The chain of events began when Charles Clemons was assaulted in his front yard at 913 Power Street by a neighbor, Ryan Kobold, from 914 Power Street after they had a verbal argument over property items.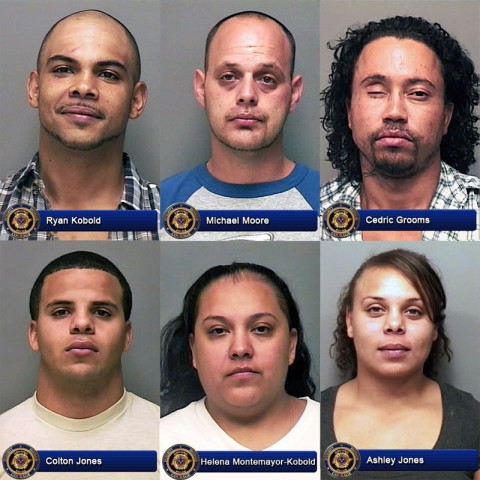 The confrontation escalated outside and multiple people became involved in the fray verbally and physically and resulted in a woman being punched. The fight moved from the outside to inside of the residence at 913 where Ryan Kobold, Michael Moore, and Cedric Grooms forced their way in and assaulted another man.

After the assault and prior to Clarksville Police arriving, Michael Moore and Ryan Kobold fled from the scene in a Chevrolet Cruze with Ashley Jones and Helena Montemayor-Kobold; Ryan Kobold made threats and brandished a gun as they left.

In the meantime, Grooms went back to his house at 914 Power Street. When Police arrived they quickly located Grooms and took him in custody.

As the investigation progressed, Ashley Jones and Helena Kobold were questioned about the location of the fleeing suspects. They declined knowing anything about the location of Moore or Kobold, which later was found to untrue.

After Police left, Michael Moore, Ryan Kobold, and another man, Colton Jones, returned to 913 Power Street and started beating on the outside of the residence, displayed a handgun, and threatened to enter and harm the occupants.

Police responded, continued their investigation and took the Ashley Jones, Helena Kobold, Michael Moore, Ryan Kobold, and Colton Jones in custody. All were booked into the Montgomery County Jail.
Ryan Kobold
Name: Ryan Kobold (W/M)
DOB: 3/ 7/ 82
Given Address: 914 Power Street, Clarksville, TN
Arresting Officer: Mohammed Dennis
Charged With: Aggravated Burglary, Two Counts of Aggravated Assault, and Conspiracy to Commit Aggravated Burglary
Booked Into: Montgomery County Jail
Bond: $20,500
Michael Moore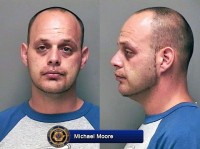 Name: Michael Moore (W/M)
DOB: 2/ 2/ 79
Given Address: 914 Power Street, Clarksville TN
Arresting Officer: Mohammed Dennis
Charged With: Aggravated Burglary, Conspiracy to Commit Aggravated Burglary
Booked Into: Montgomery County Jail
Bond: $10,250
Cedric Grooms
Name: Cedric Grooms (B/M)
DOB: 5/ 1/ 81
Given Address:  315 Lake Court Drive, Clarksville, TN
Arresting Officer: Buddy Gillespie
Charged With: Aggravated Burglary
Booked Into: Montgomery County Jail
Bond: $1,000
Colton Jones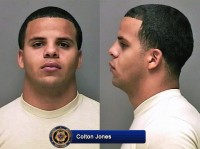 Name: Colton Jones (B/M)
DOB: 1/ 10/ 91
Given Address: 556 Morrison Drive, Clarksville, TN
Arresting Officer: Mohammed Dennis
Charged With: Conspiracty to Commit Aggravated Burglary
Booked Into: Montgomery County Jail
Bond: $250.00
Helena Montemayor-Kobold
Name: Helena Montemayor-Kobold (H/F)
DOB: 10/ 11/ 82
Given Address: 914 Power Street, Clarksville, TN
Arresting Officer: Buddy Gillespie
Charged With: False Report, Accessory After the Fact
Booked Into: Montgomery County Jail
Bond: $2,000
Ashley Jones
Name: Ashley Jones (B/F)
DOB: 2/ 11/ 88
Given Address: 914 Power Street, Clarksville, TN
Arresting Officer: Buddy Gillespie
Charged With: False Report
Booked Into: Montgomery County Jail
Bond: $1,000
Sections
News
Topics
Accessory after the Fact, Aggravated Assault, aggravated burglary, Bond, Buddy Gillespie, Chevrolet Cruze, Clarksville Police Department, Clarksville TN, CPD, False Report, Michael Moore, Mohammed Dennis, Montgomery County jail, Morrison Drive, Power Street