Topic: Extreme Heat
American Heart Association Rapid Access Journal Report
Dallas, TX – Exposure to extreme heat and physical exertion during firefighting may trigger the formation of blood clots and impair blood vessel function, changes associated with increased risk of heart attack, according to new research in the American Heart Association's journal Circulation.
Cardiovascular events are the leading cause of death among firefighters and are responsible for roughly 45 percent of on-duty firefighter fatalities annually in the United States.
«Read the rest of this article»

Nashville, TN – It's been hot, lately. Have you noticed? Tennessee's crops have noticed, too, hit with a deadly combination of record heat and drought conditions. In such widespread and long lasting situations, many summer fruits and vegetables stop growing and stop producing blossoms or fruits, even if the plant survives.
After an early and auspicious start, Tennessee's sweet corn has all vanished at local farm markets. Other crops anticipated for later in the season, like melons, may never make much of an appearance at all. «Read the rest of this article»
Clarksville, TN – Clarksville Mayor Kim McMillan is announcing the lifting of mandatory water restrictions placed on commercial customers.
"Although we currently have a little break from the extreme heat, we are still seeing an increase in water usage due to the very dry weather conditions. We are making every attempt to lift the water usage restrictions in place as quickly and efficiently as possible. This is the first step in that process," said Mayor McMillan. «Read the rest of this article»


Clarksville, TN – Burt-Cobb Community Center, located at 1011 Franklin Street, has been designated as a cooling center to provide relief from the extreme heat expected over the next few days.
The American Red Cross will provide water. «Read the rest of this article»

Nashville, TN — With the predicted heat index at or above 100 degrees for the remainder of the week, Tennesseans need to make wise decisions to protect themselves and their children from heat-related illnesses, especially as the 2010-2011 school year begins in some counties across the state.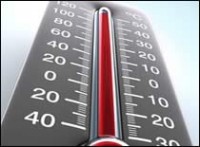 "It's important for parents and caregivers to make sure children are properly hydrated," said Health Commissioner Susan R. Cooper, MSN, RN. "With morning temperatures above 80 degrees, kids waiting on the bus stop should have water available just like those who are participating in outdoor activities in the afternoon. Consider providing your child a water bottle to have on hand throughout the day."
«Read the rest of this article»


All Clarksville Montgomery County School System's outdoor activities are cancelled today August 4th from 1:00pm – 6:00pm. This is due to the extreme heat index during that time frame. Practices maybe moved inside during that time as long as it is in an area that has AC. «Read the rest of this article»