Topic: H.O.P.E


The Hispanic Organization for Progress and Education is beginning to collect food and donations for its Fourth Annual Thanksgiving Dinner Collection. This year's goal will be to collect food for 100 families and in previous years, with your assistance, the goal is always exceeded. Your donation of $70 will help support a family of 6, the dinner will include a turkey, stuffing, potatoes, cranberry sauce, green beans, macaroni and cheese, rice, beans, rolls, milk, eggs, and a pumpkin pie.
We would appreciate your support in the form of a gift card, non-perishable canned goods, turkeys, etc. All donations are tax deductible. «Read the rest of this article»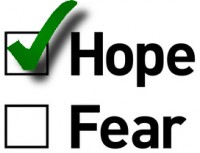 Our society is at war with itself. The downturn in the economy has brought great fears to many citizens. People who focus on their fears have little chance of seeing a solution. Fear is a paralyzing emotion. Mix that with ignorance of some basic facts that are misconstrued by devious politicians seeking their own aggrandizement and you get demonstrations that defy logic.
With citizens in all walks of life losing their jobs and needing hope, some officials more concerned about grandstanding they hope will lead themselves to higher political office than to addressing the suffering of the people who elected them.
When people need hope, more money in their pockets, possibility of new jobs opening up for which they are qualified, we are unfortunately faced with some politicians who are more interested in spreading lies than in solving problems.
Yes, we all have to support our government through taxes. Yes, we need to be as frugal as possible with public money. Yes, we need to cut pork out of all budgets—federal, state, local or personal.
But first we need to bail ourselves out of the mess we're in. «Read the rest of this article»


The Hispanic Organization for Progress & Education (H.O.P.E.) Presents their first educational meeting for Parents with Kids with Autism on June 12th at 5:00p.m. The meeting will be held at the Hope Offices (120-A Strawberry Alley). The topic is "Behavior" featuring  Juliet Flynn and Deanna Niemiec from "Scarab Behavioral Health Services".
*Please call to reserve your space. The meeting is free and open to the public. Feel free to bring your children, we have our "Kids Room" we will have fun movies and popcorn for the kids.
For more information contact Belinda Martinez at  (931)-302-9065, or Elizabeth Valdes- Adamski at (931)-249-5330.


The Hispanic Organization for Progress and Education sponsored their second annual Women's Health Conference at the Riverview Inn on Saturday, to close out the National Women's Health Week.
The primary goal of the conference is to help minority and low income women with self esteem issues, and to instill in women the knowledge that they are not alone, that other people are out there willing to help them.
«Read the rest of this article»
Clarksville Hispanic Organization for Progress and Education (H.O.P.E.) to host local annual women's health conference for second year running.

The second Annual Women's Health Conference has been slated for May 30th from 10 a.m. to 4 p.m.  at the Riverview Inn (50 College Street). «Read the rest of this article»
A delegation of multi-cultural community leaders met with Clarksville-Montgomery County School System Director of Schools Michael Harris today to learn why a number of the city's high school students were not allowed access to inaugural coverage of President Barack Obama.
CMCSS was deluged with phone calls for and against viewing the inauguration on school time, and the questionable e-mail to teachers was the result. The e-mail from the directors of high, middle and elementary schools read in part:
"If any of your teachers is going to show the Inauguration in the classroom it should be tied to their curriculum … I think you may leave yourself open to question if students are just watching the Inauguration in a passive manner. If it is tied to instruction the Inauguration can be a highly relevant event to learn about and from. «Read the rest of this article»
Knowledge is power, and empowerment is the goal of the first Women's Health and Wellness Expo.
Free medical screenings. Free dental check-ups. Free eye/vision screenings. Nutrition and fitness information. Classes on marriage, self-esteem, and self-image. It's all included in a single program being offered to the women of our community during a unique and absolutely free conference coming up on May 31.
This Women's Health and Wellness fair is a Community Enhancement event sponsored by the Hispanic Organization for Progress and Education [H.O.P.E.]. It will be held on May 31 from 10 a.m. to 4 p.m. at the Riverview Inn in downtown Clarksville. The event is free and offered as a community service.
Dr. Joy Twillie, a graduate of John Hopkins University will be the guest speaker on issues including Marriage and Self-esteem. Representatives from Centerstone will be available to discuss services they offer the community. «Read the rest of this article»
The holidays seem to begin in November, leading up to Thanksgiving and of course, Hanukah, Christmas and Kwanza. It becomes a frenzy on "Black Friday," when hordes of shoppers line up at midnight or in the wee hours in an attempt to get the best deals and the early bird.
Many of us already have the things we really want or need, so we've turned to a different kind of shopping: we seek out places and organizations that would benefit from charitable contributions, a donation "in lieu of…" random gifts. Because we also like to see these supporting gifts in action, we keep most of our charitable giving "local."
With that in mind, Clarksville Online is launching this holiday season with a list of organizations whose work we admire and support; it is an eclectic list of organizations that in one way or another has direct impact on the people of our community. «Read the rest of this article»

On Friday, June 22, 2007 at 5:00 pm there will be community meeting in Columbia, TN to address the racial profiling and discrimination of minorities in Maury County. The US Justice Department has been notify and are looking into the matter.
The Hispanic Organization for Progress & Education (H.O.P.E), NAACP (State Level) and the Tennessee Immigrant and Refugee Coalition, we will be hearing the concerns of a fearful community. The Hispanic community is being told not to attend the community meeting because the U.S. Immigration and Customs Enforcement (ICE) will conduct a raid on the premises. There have been two raids in Columbia, TN that has netted 124 undocumented immigrants. Because of these raids there is outright Racial Profiling that has now spilled over into the Indian and Pakistani communities.
«Read the rest of this article»