Topic: Joshua Jobe

Clarksville, TN – On Tuesday, December 6th, the Dover Road Cumberland Bank & Trust was robbed Tuesday at 12:48pm by a black male suspect wearing eyeglasses and a suit and tie.
The suspect was also wearing a blue or purple cap and dreadlocks that may have been a wig. The suspect handed a bank employee a note; he did not display a weapon. The suspect left on foot with the money in a pink and purple bag.
«Read the rest of this article»

Clarksville, TN – Clarksville Police Detective Joshua Jobe is trying to identify the vehicle burglary suspect included in the three videos attached and is requesting public assistance.
This incident occurred at Clarksville Gutter located at 1491 Crossland Avenue between March 22nd, 2016 at 2:36am and March 23rd, 2016 at 9:19am. An employee at Clarksville Gutter stated that he observed several work trucks with open back doors when he arrived at work.
«Read the rest of this article»

Clarksville, TN – Robert Lindlau (a 38-year-old Clarksville resident) has been indicted on two counts of Rape.
On March, 17th, 2015, when Lindlau was an assistant manager at a local business, he caught two women shoplifting and escorted them to an office in the back of the store. He told the women that the police had been called but it would be about an hour before the police showed up.
No call to police had ever been made.
«Read the rest of this article»

Clarksville, TN – Detective Joshua Jobe, from the Clarksville Police Department, is investigating a burglary at Staf Orton Auto Sales and is requesting the public's assistance in the identification of the burglary suspects.
On November 18th, 2014 there was a burglary at Staf Orton Auto Sales on College Street. Video footage from 2:00am shows two male subjects walking behind the business and carrying blocks.
«Read the rest of this article»

Clarksville, TN – The Clarksville Police Department has identified one of the Suspects from the Kangaroo Express Robbery. Christopher Randolph has been taken into custody and also had a Violation of Probation warrant served on him.
Police are still needing assistance in identifying the other suspect.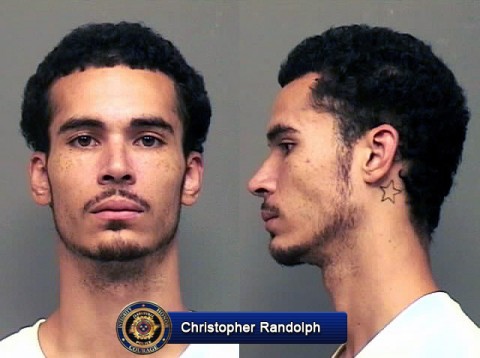 «Read the rest of this article»

Clarksville, TN – On June 20th, 2012 around 6:30pm, Derek Allen Brown was located and taken in custody by Clarksville Police without incident at the Shell Sudden Service at 2699 Highway 41A South.
He admitted to committing the robbery at Big Lots.
«Read the rest of this article»
A man well known to local law enforcement for Theft, Drugs, and Probation Violations has been arrested again.

Clarksville, TN – On May 18th, 2012, around 8:30am, a witness saw a male enter the front door of a neighbor's rental property at 948 ½ Clark Street. She called Clarksville Police and was able to provide a detailed description of the suspect, mode of transportation, and the type bags he was carrying.
Through a use of a photo line-up, Police identified Melvin Wayne Archuleta as the suspect and the man who entered the rental property.
«Read the rest of this article»