Clarksville, TN – On Tuesday, December 6th, the Dover Road Cumberland Bank & Trust was robbed Tuesday at 12:48pm by a black male suspect wearing eyeglasses and a suit and tie.
The suspect was also wearing a blue or purple cap and dreadlocks that may have been a wig. The suspect handed a bank employee a note; he did not display a weapon. The suspect left on foot with the money in a pink and purple bag.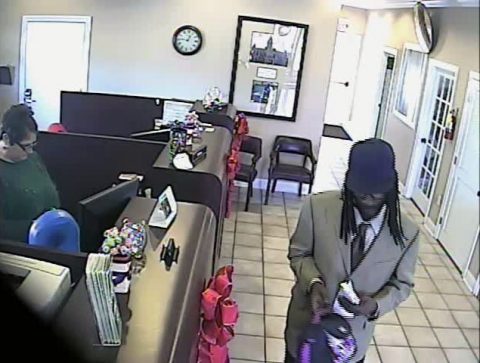 Several Clarksville District Two patrol officers immediately responded to the area, along with Montgomery County Sheriff's deputies.
Sergeant Patrick Seay led additional officers from District One to the scene to augment the investigation.
"We helped to set a perimeter and assist with a canine team track of the suspect," stated Seay.
Another CPD officer, Sergeant Joel Gibbons, who was working off duty security at a different bank on a nearby street, immediately deployed and confronted a suspect right after the robbery was broadcast. When the suspect ran, Gibbons caught and detained that individual in the nearby Sonic Restaurant parking lot.
The detainee, however, turned out to be a runaway juvenile who was also being sought by police. There is no evidence at this time to link the juvenile to the bank robbery.
Crime scene officers began processing the crime scene shortly before 1:30pm. Detective Joshua Jobe is the lead investigator.
Anyone with information about this robbery may contact him at 931.648.0656, ext. 5269. Information can also be given to the Crime Stoppers TIPS Hotline at 931.645.TIPS (8477). Please leave a message at either number.
Photo Gallery