Topic: Screaming Eagle Ready Mix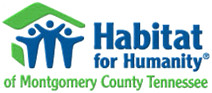 Clarksville, TN – On Sunday, June 9th, 2019 at 3:00pm, Habitat for Humanity of Montgomery County will dedicate its 97th Clarksville-area home at 115 Edmonson Ferry Road.
The new homeowners, Overlia Williams and Mario Owens, applied for the home in April of 2016 and following approval of their application, performed over 500 sweat equity hours on their home and the homes of others to qualify for the program.
«Read the rest of this article»
Clarksville, TN – Clarksville Mayor Kim McMillan issued a proclamation Thursday recognizing Screaming Eagle Ready Mix drivers and their family members for supporting and protecting mourners at a recent memorial service for Sgt. William Bays, a Fort Campbell soldier who was killed in Afghanistan.
«Read the rest of this article»

Montgomery County, TN – Representatives from organizations that were certified in 2013 opted to attend a CMC Green Certification Refresher Class where they were brought up-to-date on the latest environmental concerns in our community, discussed their own impacts on the environment and shared their continued improvements.
«Read the rest of this article»

Clarksville, TN – The latest business to complete requirements for the Clarksville-Montgomery County Green Certification Program and host a Green Ribbon Cutting is Screaming Eagle Ready Mix.  Duane King, Screaming Eagle Ready Mix's plant manager, who led the effort for the company to become CMC Green Certified, explained.
«Read the rest of this article»