Clarksville, TN – Clarksville Mayor Kim McMillan issued a proclamation Thursday recognizing Screaming Eagle Ready Mix drivers and their family members for supporting and protecting mourners at a recent memorial service for Sgt. William Bays, a Fort Campbell soldier who was killed in Afghanistan.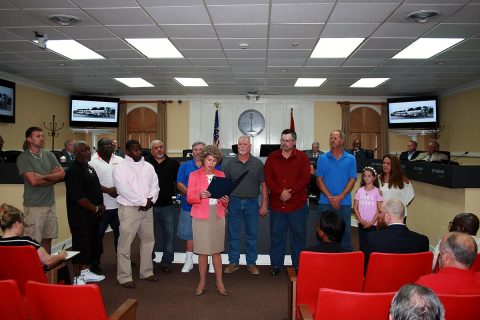 The drivers lined up their trucks to shield the mourners from an out-of-town protest group, who had announced they would march near the service.
Screaming Eagle Ready Mix, 490 Barge Point Road, Clarksville, is a locally owned concrete company.
The City Council, city staff and residents attending the meeting gave the drivers a big round of applause and a standing ovation.
Here is the proclamation:
PROCLAMATION
Screaming Eagle Ready Mix Recognition

WHEREAS, Sgt. William Bays, one of three 101st Airborne soldiers killed in Afghanistan on June 10, 2017, was remembered on June 23, 2017 at Fort Campbell; and

WHEREAS, At the suggestion of Christi Carnall, the wife of one of the drivers, Screaming Eagle Ready Mix drivers and family members stepped up to support and protect the family and friends of Sgt. Bays; and

WHEREAS, Screaming Eagle trucks lined the funeral procession route to pay tribute and honor our fallen hero and his loved ones;

NOW, THEREFORE, I, Kim McMillan, Mayor of Clarksville, Tennessee do hereby proclaim, July 6, 2017, as:

Screaming Eagle Ready Mix Recognition Day

And urge the residents of our community to thank the drivers and their families for the support of our military personnel and their families.

______________________
Kim McMillan, City Mayor

_____________________
Sylvia Skinner, City Clerk