Montgomery County, TN – Representatives from organizations that were certified in 2013 opted to attend a CMC Green Certification Refresher Class where they were brought up-to-date on the latest environmental concerns in our community, discussed their own impacts on the environment and shared their continued improvements.

The class was led by Donald Haynes, environmental manager at Florim, USA and Chad Crocker environmental specialist at Nyrstar.
As a part of the recertification, the 2013 as well as those certified in 2012, were invited to tour the Clarksville Water Treatment Plant where the group had the opportunity to learn how water is treated for the citizens of Clarksville-Montgomery County.
Attendees learned how the water is taken in, treated, and filtrated.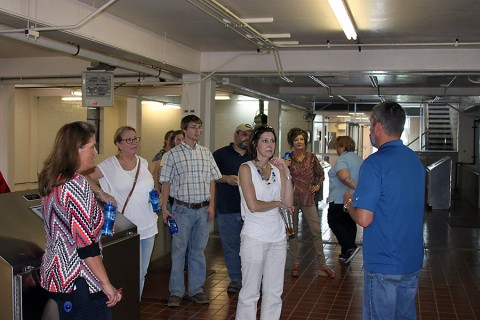 After all questions were addressed, Plant Manager Phil Whittinghill closed by informing the group that water from the treatment plant is highly regulated by several different sources including; the Environmental Protection Agency (EPA), the American Water Works Association (AWWA) and the Tennessee Department of Environment and Conservation. Bottled water is regulated by the Food and Drug Administration (FDA).
For details on how your business can participate in the Green Certification Program, contact Michelle Newell at manewell@mcgtn.net