Topic: VoteSafeTN
Tomorrow the House State and Local Government Committee meets in Room 16, Legislative Plaza to consider the Tennessee Voter Confidence Act (HB 1256), a critical measure that could mandate voter-verified paper ballots in Tennessee will be in place for the November 2008 election.
VoteSafeTN and Gathering to Save Our Democracy are making a final push to support this measure, and are encouraging Tennessee voters to the same by doing the following:
Email members of the House and Senate State and Local Government committees. Tell them we still have the time to make the changes necessary to scrap unsafe, unverifiable, insecure and problem-prone DREs in Tennessee for opscan voting systems or hand-counted ballots in time for the November 2008 election. «Read the rest of this article»
Yesterday's New York Time's Magazine cover story, "Can You Count on Voting Machines?," offers valuable and in depth coverage of electronic voting machines and the threat they pose to the foundation of our democratic process – our right to vote in free and fair elections.
In Tennessee, 93 out of 95 counties use electronic voting machines with no voter verifiable paper trail. That means there is no way to be completely sure of an accurate tally or recount in the event one is needed.
This Thursday, January 10, the legislature's Voter Confidence Act Legislative Study Committee will meet to discuss the findings of the Tennessee Advisory Commission on Intergovernmental Relations (TACIR) report, "Trust But Verify," which recommends that to improve election integrity in Tennessee we move away from electronic voting machines and replace them with paper-based optical scan machines. «Read the rest of this article»
The TACIR "Trust But Verify" report recommends that Tennessee move to voter-verified paper ballots to improve election integrity.
Our efforts to achieve more secure elections in Tennessee moved forward this week when the TN Advisory Commission on Intergovernmental Relations (TACIR) voted unanimously to release the TACIR staff report, Trust But Verify, to the state legislature and the general public.
The TACIR Commissioners were obviously influenced by the outpouring of emails and other messages they received from many of you last week. They told us that hearing from so many people did influence their deliberations. We need that to happen again in the next 2-3 days in order to move safe elections legislation forward.
The joint legislative study committee that is considering a bill to require optical scan voting systems statewide by November, 2008 meets on Tuesday, December 18. The recommendations of this study committee and the actions it recommends to the legislature will go a long way toward determining if our elections will be secure in 2008. «Read the rest of this article»
In the wake of 2000 election issues, Congress passed the Help America Vote Act (HAVA) in 2002. HAVA was intended to address the problems of accuracy and functionality such as "hanging chads"– of the voting systems then in use. HAVA's mandate also included ensuring that all voters with disabilities have access to voting systems that would provide private and independent voting.
These changes were required in every state for the 2006 federal election. Millions of tax dollars were allocated and dispersed to the states to upgrade and buy new equipment that would incorporate these requirements. «Read the rest of this article»
The Clarksville screening of UnCounted, a film targeting issues in electronic voting, drew fifty people to the Unitarian Universalist Fellowship Friday evening, filling the screening room to capacity for this special event. The film's producer, Patricia Earnhardt, and activist Bernie Ellis, addressed the group and fielded questions about the film and the increasing controversy over the accuracy and security of electronic voting machines.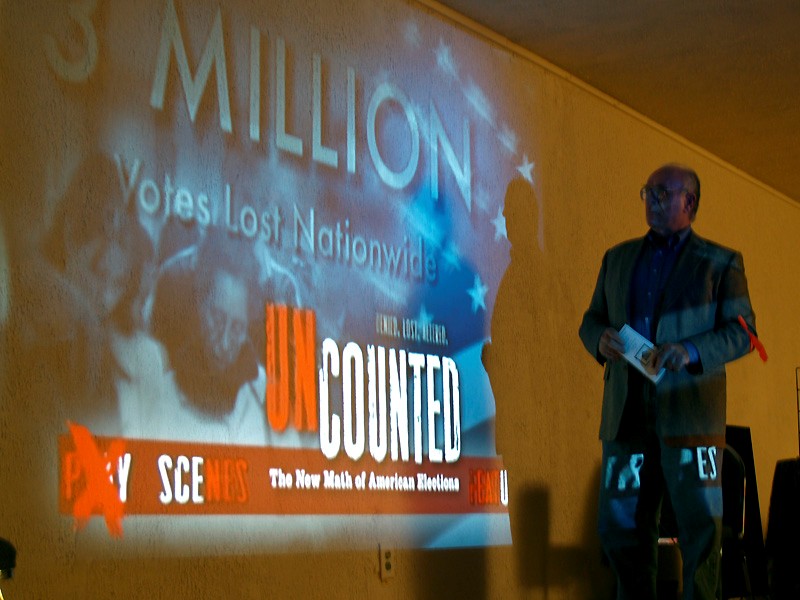 Bernie Ellis introduces "UnCounted"
Producers describe UnCounted as "an explosive documentary that shows how the election fraud that changed the outcome of the 2004 election led to even greater fraud in 2006 — and now looms as an unbridled threat to the outcome of the 2008 election. This controversial film examines…how easy it is to change election outcomes and undermine election integrity…" «Read the rest of this article»

The Belcourt Theatre will host the premiere screening of UNCOUNTED:The New Math of American Elections, this coming Monday night, November 12. The event includes a reception prior to the screening and a panel discussion on the film and its vitals issues after this premiere. If you are planning to attend this screening — and we hope you are — you may want to purchase your tickets online before the event!
UNCOUNTED exposes how Americans were cheated during the 2004 and 2006 elections – and how "enraged" voters have turned their anger into citizen activism – to safeguard the vote. Eyewitness accounts from whistleblowers are backed up by election experts in revealing how Jim Crow tactics, electronic voting machine security breaches, vote count manipulation, and illegal behavior by a major voting machine manufacturer all threaten the very core of our democracy – the vote. Democrats, Republicans, business leaders, elected officials, and rank and file voters are all part of a growing movement in America to correct an election system gone bad.
https://www.youtube.com/watch?v=aPa4fiEMWuw
«Read the rest of this article»