Please assist the Clarksville Police Department in locating CHRISTOPHER JAMES DAVIS, White Male, DOB: 11/1/89, Given Address: Homeless, 6'2", 170 lbs., Hair Color: Red, Eye Color: Hazel.  He has an AGGRAVATED ROBBERY warrant on file.
«Read the rest of this article»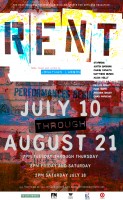 Several years ago I had the extreme pleasure of calling people in to be filmed as they talked about the good ole days at Dunbar Cave.  The Friends of Dunbar Cave and Jason Baggett of Clean Cut Productions at Austin Peay were making a film which included the oral history of the resort.
As people talked about Dunbar Cave in its heydays their eyes would light up.  I could feel their excitement as they described the place that put life into their worlds.
Dunbar Cave bought the latest entertainers and the latest sounds to Clarksville; it brought celebrities and made celebrities out of the locals.   Zoot Parker, a local known for his great dancing, said that Hollywood didn't have a thing over Dunbar Cave.  For kids and young adults the Cave brought the world here to Clarksville and they weren't afraid of it.
"…brought the world to Clarksville"
I thought of this again as I left the Roxy Theatre after a performance of Rent.  «Read the rest of this article»
Elections Coordinator says he doesn't have to enact law

Nashville – State Coordinator of Elections Mark Goins has again refused to comply with state law, said House Democratic Leader Gary Odom on Friday.
"Goins and Secretary of State Tre Hargett have continuously failed to enact Tennessee's Voter Confidence Act of 2008, which mandates the purchase of optical-scan voting machines that use paper ballots," said Odom (D-Nashville). "The use of paper ballots ensures that Tennesseans' votes are counted correctly."
In a letter dated July 31st, Goins, in response to several requests from Odom's office, said that he had the sole authority to "interpret" the law and was not going to implement the Act. «Read the rest of this article»

While it is far from the 'Tour De France', in Clarksville, Tennessee cycling is a growing sport and hobby. For years now I have had friends who have encouraged me to get into cycling. It was only recently that I decided that I needed to get back into exercising.
When I retired from the Army two years ago the VA Doctor told me that my days of running were behind me. This was disturbing to me as I always enjoyed running and it was something that I was rather good at, but years of pounding the pavement and trails, along with ruck marches, and the art of jumping out of perfectly good aircraft for no particular reason had taken its toll.
Perhaps it was my turning the big FOUR 'O' that pushed me back to the gym, and taking a fresh look at cycling, or it could have been my giving up a bad tobacco habit (yet again) that was making me a tad restless. I suppose I will never know. I broke down and bought me one of those Road Bikes that many of my friends have along with the bright and flashy jersey, spandex shorts, and the whole NINE YARDS. I must admit I was kind of excited to start in this hobby, although it was just as expensive as many of the other hobbies that we get into, the difference I suppose is that this is 'good for you'. «Read the rest of this article»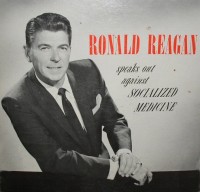 While Conservatives rail against their "big socialist government" boogeyman, an interesting new pattern seems to be developing that indicates that Republicans may be willing to thumb their nose at their corporate funders (and capitalism in general) in order to oppose the President who trounced them in the last election.
The evidence?  Well, the latest example comes from Rush Limbaugh, the voice of the Republican Party, and his right-wing copycats as they denounce the President's "Cash for Clunkers" program. «Read the rest of this article»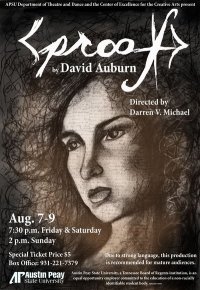 It's said that genius lies between normality and insanity, and in Proof that axiom certainly holds true. The play written by David Auburn, and directed by Darren V. Michael is being presented in Austin Peay State University's Trahern Theatre. With two shows remaining: 7:30pm Saturday night, and 2:00pm Sunday, if you need something entertaining to do for the weekend, I heartily recommend checking out this wonderful Pulitzer Prize winning play.
For years Catherine has cared for her father Robert, a mentally ill math professor. Catherine worries that she may be fated to share his illness. The play opens with Catherine involved in a conversation with her father. It is later revealed that he has recently died.
«Read the rest of this article»