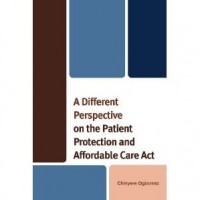 Clarksville, TN – A few years ago, students in Dr. Chinyere Ogbonna-McGruder's administrative law class kept asking her questions about the Patient Protection and Affordable Care Act, also known as "Obamacare." The Austin Peay State University associate professor of public management and criminal justice saw the situation as an ideal teaching opportunity.

"That's all they wanted to talk about. What is it? Is it socialized medicine?" Ogbonna-McGruder said. "So I told them to go research it themselves."

During the next class period, the students reported back that the bill was too large and confusing, and the only information they could find was politically biased.

"I thought about it, and I thought, 'You know what, I could do something toward that angle,'" Ogbonna-McGruder said.

In the summer of 2012, she began reading through the bill and taking notes for a new project. Then in November 2013, after several late nights of writing and editing, the University Press of America published her book, "A Different Perspective on the Patient Protection and Affordable Care Act."

"This book is a well-written, concise yet comprehensive update on changes within the health care system in America," Dr. Thomas Nicholson, professor of Public Health at Western Kentucky University, wrote in a review of the book. "Its emphasis on the Patient Protection and Affordable Care Act allows it to serve as a stand-alone textbook or as an adjunct to a broader text on health care. It should be a must read for new students to the field."

Ogbonna-McGruder, who previously worked for the World Health Organization in Africa and as a bioterrorism epidemiologist for the Tennessee Department of Health, wrote the book to serve as a resource for anyone interested in the law.

"The book is supposed to explain to them what the health care law is all about," she said. "I called it 'A Different Perspective,' because when my students looked online, and I looked online for books, a lot of the resources were opinions. Regardless of your political affiliations, it's important that we understand what the law is supposed to address.

And of course, there are limitations of the law, but the bottom line is to understand the background to the law, understand what the law is supposed to address, then you can have an informed opinion."

The book is currently available online at amazon.com. Ogbonna-McGruder is also the author of "TennCare and Disproportionate Share Hospitals" and "Voices from the Inside: Case Studies from a Tennessee Women's Prison."

For more information, contact Ogbonna-McGruder at ogbonnac@apsu.edu.



Sections
News
Topics
A Different Perspective on the Patient Protection and Affordable Care Act, Africa, Amazon.com, APSU, Austin Peay, Austin Peay State University, Chinyere Ogbonna-McGruder, Clarksville, Clarksville Tennessee, Clarksville TN, Obamacare, Patient Protection and Affordable Care Act, public health, TennCare and Disproportionate Share Hospitals, Tennessee, Tennessee Department of Health, Thomas Nicholson, University Press of America, Voices from the Inside Case Studies from a Tennessee Women's Prison, Western Kentucky University, World Health Organization