Topic: Wanda Morrison

Clarksville, TN – Clarksville Mayor Kim McMillan congratulates four individuals from the City of Clarksville's Finance Department who have recently received certification as Certified Municipal Finance Officers from the Municipal Technical Advisory Service, a program of the University of Tennessee.
Interim Director Debbie Frazier, Jean Adcock, Regina Hampton and Wanda Morrison will graduate on February 22nd, 2013 in a ceremony to be held at the War Memorial Auditorium in Nashville. «Read the rest of this article»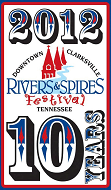 Clarksville, TN – The final day of the 2012 Rivers and Spires Festival on Saturday opened with unseasonably cooler weather to the point of being really chilly.  Warm coats, hats, and/or gloves were the order of the day.  Turnout started out slow, and might have been a little bit depressed over all from previous years as a result, but the people who did come out had a really great time!
Arriving around 11:00am, I found dribs and drabs of people mostly scattered around the various stages. As the morning progressed the numbers steadily increased. I made my way up strawberry alley and watched a vendor playing with one of the many items he had for sale. «Read the rest of this article»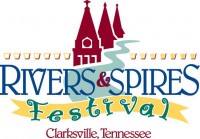 Clarksville, TN – Due to unseasonably chilly weather and a blustery wind, the third day of Rivers and Spires looked like it was going to end with a whimper rather than a bang, the victim of the unpredictable spring weather. However as the afternoon wore on, more and more people showed up to enjoy all that the festival had to offer. "The crowd hung in even though we had monsoon winds and rains, and I think it says a lot about this festival, and how much people enjoy it" said Festival Manager Doug Barber.
«Read the rest of this article»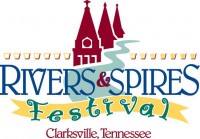 Clarksville, TN – This year during the Rivers & Spires Festival, make your way to the Madison Street United Methodist Church and take in the amazing Quilts of the Cumberland display.
The exhibit will take place all three days of the festival, April 14th-16th. The show will display local artisans with a variety of quilts from traditional to one of a kind art quilts.  Quilting is a centuries old art form where the quilters use colors, shapes and their creativity to express themselves through the use of fabrics, various textiles and embellishments. Quilting is still a tradition in many households. According to the Quilters Newsletter study, Quilting in America 2010, there are 21 million quilters in the US and 14 percent of US households are home to one active quilter. «Read the rest of this article»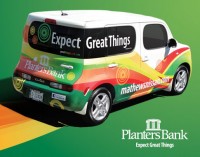 Clarksville, TN – Planters Bank gave away the Nissan Cube yesterday. The Catch the Cube giveaway was sponsored by Garland Nissan and Matthews Nissan. Owner and President O.B. Garland along with other dealership employees  were on hand to watch the giveaway.
The contest kicked off at the 2010 Rivers & Spires festival  in April. Eight months later after 3,000-4,000 entries the  12 finalists were selected. «Read the rest of this article»