Clarksville, TN – The final day of the 2012 Rivers and Spires Festival on Saturday opened with unseasonably cooler weather to the point of being really chilly.  Warm coats, hats, and/or gloves were the order of the day.  Turnout started out slow, and might have been a little bit depressed over all from previous years as a result, but the people who did come out had a really great time!
Arriving around 11:00am, I found dribs and drabs of people mostly scattered around the various stages. As the morning progressed the numbers steadily increased. I made my way up strawberry alley and watched a vendor playing with one of the many items he had for sale.
The Strawberry Alley stage had yet to kick off so I proceeded up to North Second Street where I watched a young man bravely climb up the zip-line amusement, get hooked up to the cable, and launch himself off into space to slide down the line.
I proceeded down North 2nd Street towards Franklin Street where a young zombie with some really ghoulish makeup was ready to join in on the days fun. Not much else attracted my eyes until I arrived at the Court House  Stage where a young lady from the Gateway Casts and Crowns was performing showtunes. She had drawn the first good sized crowd of the morning.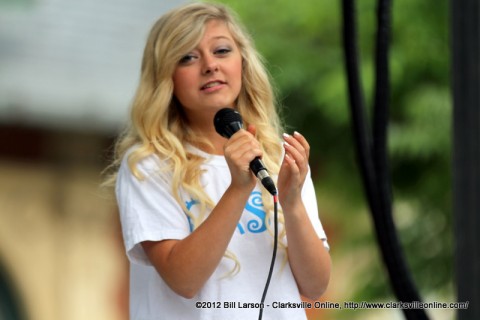 I headed down Commerce Street and found a big lineup of classic cars, street rods, muscle cars, classic trucks and other special interest vehicles from the Memory Lane Cruisers. The group was founded in 1994 and is a annual favorite at the Rivers and Spires festival. "Oh wow! No they didn't" said one man as he glanced under the hood of a fire engine red muscle car.
It was getting towards 11:30am when I passed by North 3rd Street, and crowds of people were lined up outside the food vendors waiting for an early lunch.
At the Green Zone which was sponsored by the Madis0n Street United Methodist Church's Creation Care Program (Christians Acting Responsibly for Earth), people were visiting the various booths including CDE Lightband, Harvest Network, The Food Initiative,  Bi-County and CMC Green Certification Program, The Care Program, Tennessee Trails Association and the Friends of Dunbar Cave, Montgomery County 4H Program, the Natural Resources Conservation Service, CEMC (Cumberland Electric Membership Corporation), Tennessee Solar Energy Association, among others.
Some of the fun activities included a booth with the Makerbot personal 3d printer, another with a pedal powered generator which allowed people to generate their own electricity and see it light up a series of light bulbs. CEMC had Louie the Lightning Bug on hand, and the Tennessee Solar Association had a clown entertaining people in front of their booth.
The Clarksville-Montgomery County Education Foundation hosted the Road to Graduation area across the street where local businesses could show their support for education in our community. Represented were the Matthew Walker Comprehensive Health Clinic, Publix, APSU's XEM (Chemistry Club), DBS & Associates Engineering The Clarksville Association of Realtors, and the CMCSS Road to Graduation Program.
I got back on Commerce Street and found the Clarksville Convenient Shopper Magazine, and New Praise Radio booths and they were really grooving to that gospel sound.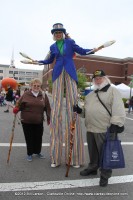 I took a moment to snap a photo of a Vietnam Veteran and his wife being entertained by a juggler on stilts. She was making patterns in the air with her three juggling clubs. They kind of look like bowling pins but they are not, these are specially tools made just for juggling.
I arrived at the Kids Zone and right away found the Manna Café Ministries booth. They had a plant a seed activity for the kids. This wonderful charity helps to feed the hungry in Clarksville.
Right next door was the Boy Scouts of America booth. They had several scout masters on hand to talk to kids interested in taking part in the scouting programs.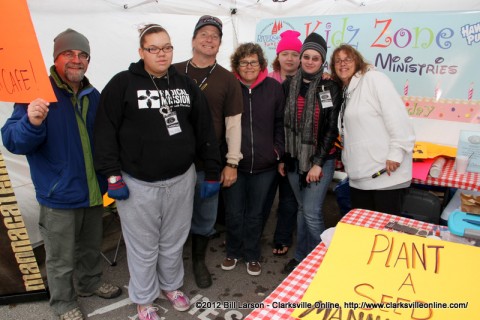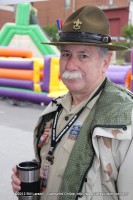 Also represented were American Twisters, Awaken Church, Boy Scouts Of America, Chick-fil-a, Child Youth And School Services,Clarksville Christian School, Clarksville Family Adoption Group, The Clarksville Greyhounds, Clarksville Youth Enrichment Programs, Community Outreach Christian Ministries, Covenant Baptist Church, Extreme Kids from the Grace Nazarene Church, Ft. Campbell Credit Union, Girl Scouts Of Middle Tennessee    Girl Scouts, Habitat For Humanity Restore, Head Start, Hopkinsville Rugby Club, Manna Cafe Ministries, Mary Kay, Masons, Montgomery County Driver Safety Program, Montgomery County E911 Center, New York Life, Oakwood Free Will Baptist Church, Oscar Mayer Wiener mobile, Publix Super Markets, Riverside Church, The All State, and The Autism Foundation Of Tennessee.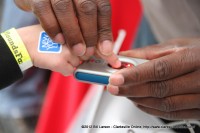 I want to commend the good people from New York Life who were on hand making Child ID kits for parents. These kids which include a photo, identifying information, and a digitized finger print can be an invaluable resource for police if a child ever comes up missing.
Riverview Mounds Century Farm was also on hand with Petunia the Pig, their mascot. They provided kids with Child ID wrist bands to help identify them if they were lost. This aided in the recovery of 4 children who got lost in the Kids Zone without having to involve festival officials. They are currently accepting sign ups for the first RiverView Mounds Summer Camp which will serve children up to the eighth grade with outdoor activities like gardening, hiking, animal care (including horse grooming!), scavenger hunts, nature art, fossil hunting, hay rides, zip lines, team sports, and much more. You can find out more information by visiting their website at http://www.riverviewmoundsfarm.com/default.aspx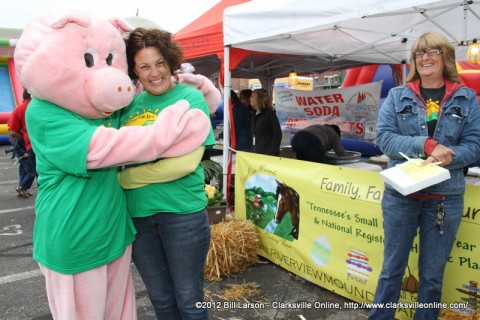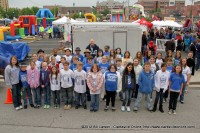 41 kids from the Cumberland Heights Elementary School who were about to perform on the  Lovey's FunTastic Kids Show Stage, and I got the chance to get a group photograph of them for this story, and their parents before hand. I also grabbed one shot of them performing as well it's in the gallery.
Despite the still chilly weather the kids had no problems shucking their shoes to bounce on the inflatables, some of which still had puddles of cold water from the previous evenings rain.
As the children's parade was starting to form up, I got a chance to see Elmo and the News Channel 4 Snowbird for just a moment before they got mobbed by their adoring young fans.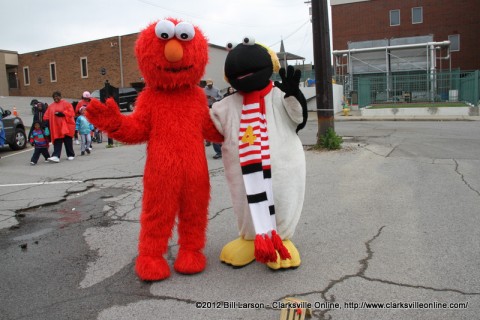 Figuring I had 15-20 minutes before the Parade started I continued my loop of downtown by heading up to Franklin Street where I enjoyed a few moments listening to a Native American Drummers.A young Korean woman was heading for the stage in a traditional outfit  of vivid pinks and greens, she was a part of the Korean Womens Organization who would be up next.
I took pictures at the Islamic Center of Clarksville's booth  which was manned by 5 of the nicest young women you could meet. They were wearing the traditional head scarfs dictated by their faith. I also took photos at the Harris-Holt Martial Arts Academy and the Filipino-American International Association booths.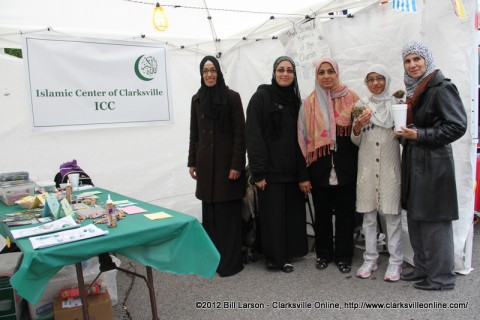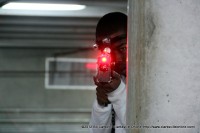 Just down the street festival goers were enjoying a soothing massage. At the CDE Lightband booth you could see your tweets on TV. Under the Parking Garage on Franklin Street a spirited game of Laser Tag was underway.
I caught up to the Children's parade as it came down the sidewalk by the court house and took a few photos there before deciding I wanted a different view and ran up North Second Street  and got in the position I would remain until the parade was past.
The Children's Parade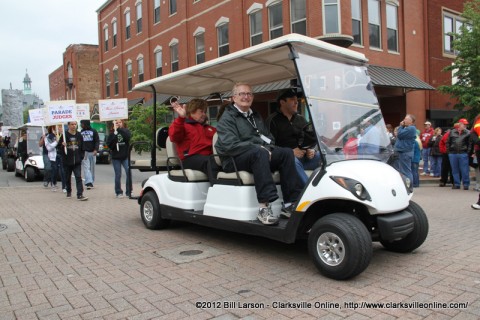 The theme of 2012 parade is "It's Your Birthday!" in honor of if being the 10th Anniversary of the Rivers and Spires Festival.
A Clarksville Police department Motorcycle Officer cleared the crowded streets to allow the parade to pass through safely.  He was followed by Montgomery County Deputy Sheriff Sgt. Brown in a Sheriff's Department golf cart.
Autumn Hassell was the Parade Bell Ringer.  The Parade Banner was carried by the Citizen's Police Academy. Ft. Campbell's JROTC provided the Honor Guard.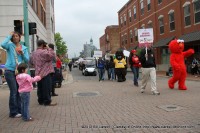 Elmo served as the Children's Parade Grand Marshal.
Next up was the VIP trollies carrying Mayors Bowers and McMillan, Director Doug Barber,  River Teen Queen, River Queen, and their B.OS.S. escorts.
They were followed by Channel 4 Snowbird the Founding Grand Marshal.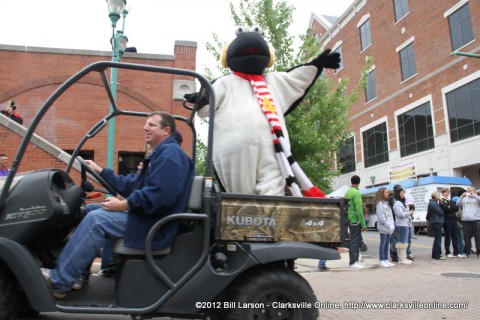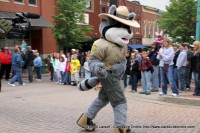 Next up was young Katherine Williamson, who was  followed by Buddy and P'Nut from Fort Campbell's MWR. Ft. Campbell Girl Scout Troop 916 was next up lead by the American and the Girl Scout Flags. Ramble the Racoon, the Offical Mascot of the Tennessee State Parks was really strutting his stuff.  He was followed by Dimple the Dumpster the Bi-County Waste Management Mascot.
The simply amazing dancing Robot was riding his silver bike with his operator at his side. He was followed by Screamer the 101st Airborne Division Mascot.
The Party Station train carried former bell ringers and the parade committee.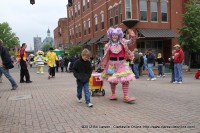 Next up was Lovey of Lovey's FunTastic Kids Show. Followed by Louie the Lightning Bug. The Kline Triplets were pulled in a little wagon train by a man in a blue hat with a lei around his neck.
A whole bevy of mascots came next including Plato the Publixaurus,  CPD Officer Joe Newman with Darren the D.A.R.E.  Lion,  and Trixy the Mascot of the Clarksville Fox Women's Full Contact Football Team.
They were followed by what had to be one of the coolest parts of the children's parade giant puppets each one controlled by the person who was carrying them. They reminded me of the Bed and Puppet Theatre from Vermont.A woman on stilts  dressed all in green  with red streamers waved as she passed by.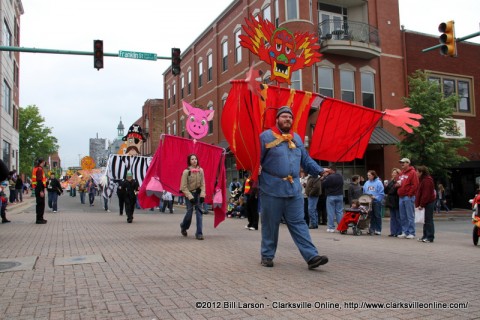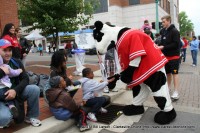 The Clarksville Mommies were next, followed by Girl Scout Troops 2797 and 5000. The Cows from Chick-Fil-A were continuing their Eat Mor Chikin campaign as they marched in the parade.
Next up was Temple of Truth Sunshine Band, followed by Lil'Zac from Zaxby's and the Little Caesar from Little Caesars Pizza.The Hispanic Organization for Progress and Education followed dressed in colorful Hispanic costumes.
They were followed by Clarksville Christian School and their Centurion mascot. Wendy from Wendy's Hamburgers handed out coupons to the kids as she marched in the parade.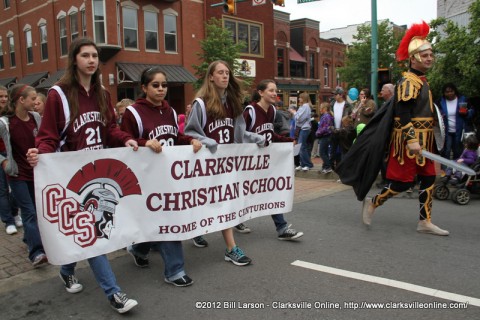 The Red River Sirens roller derby team came next.  One of the kids was pushed along in a giant skate. The State Farm Insurance Bear gave high fives to the kids as he followed.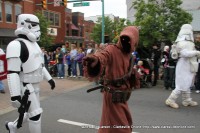 Spot the Mascot for Alicia's K-9 Kuts waved as he passed by my position. He was followed by a bevy of Star Wars Characters. A Tusken Raiders eyes glowed from under his hood as he pointed at the crowd.
Walkers from Kennedy Law Firm was next, Kevin Kennedy was close behind riding on a ATV pulling a cake float. He was followed by Shriners clowns.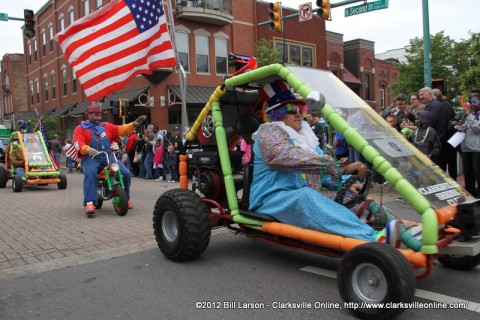 Next up was the kids from the True Live in God Ministries Youth Group.
Katherine Purnell the Clarksville Campus Director for the Daymar Institute followed with her very own security detail closing out the Children's Parade.
With the parade done I headed to the Arts Galore Marketplace to grab a couple of photos, on the way I stopped to look at the Corvettes of the Cumberland, put on by the Corvettes of Clarksville Club.
On the Public Square Stage I enjoyed a few minutes of the performance by the band Saints of Havana. They play country rock in the styles of Rascal Flatts, Keith Urban, and Jason Aldean.
Mark Griggs was manning the Downtown Artists Co-op booth and was nice enough to hold my camera as I switched out lens.
By this time Franklin Street was wall to wall people as far as the eye could see. I snapped a photo of a mother and daughter as they danced in front of the Roxy Regional Theatre. Bill Roberts of Bill Roberts Thunder Road Automotive and Marine was talking with Regional Manager Dave Sines who will be overseeing the brand new Clarksville Marina.
I looped the block heading back down Strawberry Alley and back up Franklin Street before heading off to the Brewfest off of Third Street.
On my way I ran into Linda Cain who used to run Visions Metaphysical Boutique. She's doing well, but she was missing being a part of the downtown scene.
I also ran into Jessica Paola Abtahi. Jessica lives in of Nashville, and has been named Miss Tennessee Latina 2012. She is a 22-year-old senior at TSU, majoring in Mass Communications. She speaks English, Spanish, and some Farsi. Her mother is from Colombia.
Brewfest
At Brewfest you could sample a large variety of spirits from local, regional, and national vendors.
Brewmasters from across the region were on hand providing samples, answering questions and giving visitors a delightful peak into the wonderful world of craft beer. Festival attendees were able to sample more than 50 craft beers and went home with a commemorative mug courtesy of Old Chicago Pizza!
Among the choices were:
Sam Adams Boston Lager
Sam Adams Summer Ale
Sam Adams Blackberry Witbier
Sam Adams Cherry Wheat
Sam Adams Whitewater IPA
Sam Adams Noble Pils
Sam Adams Latitude 48
Twisted Tea
Angry Orchard Apple Ginger
Angry Orchard Crisp Apple
Blue Moon
Blue Moon Summer Honey Wheat
Leinenkugel's Summer Shandy
George Killian's Irish Red
Blue Moon Pale Moon
Peroni
Grolsch
Fosters
Sparks Blackberry
Guinness Draught
Guinness Black
Harp
Red Stripe
Smithwicks
Smirnoff Tropical Fruit
Smirnoff Signature Screwdriver
Blackstone APA
Blackstone St. Charles Porter
Blackstone Nut Brown Ale
Blackstone Chaser Pale
Becks
Stella
Bass
Rolling Rock
Boddington
Heineken Light
Amstel Light
Dos Equis Lager
Newcastle
Newcastle Summer Ale
Sol
Tecate
Lazy Magnolia Southern Pecan
Mikes Lemonade
Mikes Lite Lemonade
Mikes Margarita
Mikes Black Cherry
Mikes Cranberry
Mikes Strawberry Lemonade
Mikes Mango Punch
Cayman Jack Margarita
Four Loko Fruit Punch
Four Loko Watermelon
Four Loko UVA
Four Loko XXX Blueberry Lemonade
Pabst
McSorley's
Old Style
Schlafly Dry Hopped APA
Schlafly Kolsch
Schlafly Oatmeal Stout
Shiner Bock
Shiner Blonde
Shiner Black
Shiner Seasonal
Bridgeport IPA
Blackhorse Pub & Brewery
They had something for everyone. In addition to the drinking you could also enjoy
Beer 101 – Lessons from the best. What's a Pale Ale? IPA? Hefeweizen? And why should you care?
Beer and Food Pairings – What is the best brew to sip while you devour a steak…
Entertainment – Music from some great regional artists will be performed.
Drawings for prizes donated by Brewers – Get some brew swag from your new favorite brewery!
Chef Luke Miller was giving a cooking demonstration to a packed house when I arrived. He was showing audience members how to properly marinate and cook meats. Afterwards the audience got to enjoy samples from the lesson. Chef Luke's wife Cydney is encouraging him to apply to be on the Next Food Network Star, and I think he really has a shot.
It was getting close to time for the headliner on the main stage so I slowly made my way back to public square stopping off at the Last Band Standing contest on the Strawberry Alley Stage. There I saw a woman and three daughters all with colorful animal hats.
I ran into Clarksville City Council Member James Lewis and his wife at Ingredients, a kitchen supply store which has become a staple of the downtown community, as I stopped in to warm up for a couple of minutes.
Arriving at the public square stage I found The Lost Trailers warming up the stage for Little Big Town. This band was really hot and knew how to work up the crowd.
Shortly before 8:45pm I moved to the top of F&M Bank where I able to capture a view of just how packed Public Square really was. It was wall to wall people down there. Right on the nose at 8:45pm there was a burst of light from across the river and the first firework burst into the air. Salvo after salvo followed. My business partner Mark Haynes caught the entire show on video, as I ducked inside to capture a quick VIP meet and greet with Little Big Town before they took the stage for their 9:00pm show.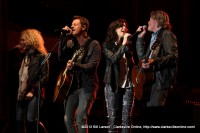 Little Big Town stormed on stage to the cheers of the standing room only crowd. Members of the media scurried to capture the perfect shots as we were only permitted to do so during the first three songs.
The country vocal quartet Little Big Town began with Kimberly Roads and Karen Fairchild, two Georgia natives who began singing together in college. Arkansan Jimi Westbrook, a friend of Fairchild's husband, joined them to make a trio, and the group was completed by the addition of Phil Sweet in 1998. From the outset, Little Big Town devoted their sound to harmony and multiple lead vocals, a combination that made the band a hard sell at first. They finally landed a deal at Mercury Records, but it fell through due to disagreements about musical direction. In the wake of the success of the Dixie Chicks, however, Little Big Town suddenly seemed a more likely commercial proposition, and they were taken up by the Dixie Chicks' label, Monument Records, in 2000.

Recording sessions lasted longer than usual for a country release, but Monument finally issued the band's debut single, "Don't Waste My Time," in the winter of 2002. The song was on its way up the charts when its accompanying album, Little Big Town, arrived in May. Although the debut produced several minor hits, Little Big Town didn't become a superstar act until 2005, when The Road to Here yielded four Top 20 singles (including the ballad "Bring It on Home") and earned the group its first platinum record. A Place to Land followed in 2007 and netted three singles, none of which made it into the Top 30, but the band's profile continued to grow due to incessant touring and supporting acts from Sugarland to Carrie Underwood. Fairchild also guested with John Mellencamp on his album Life Death Love and Freedom. In May of 2010 "Little White Church" appeared as a single that peaked at number 14 on the Billboard country chart; in August of that year Little Big Town's fourth studio album, The Reason Why, was released by Capitol.
I am a big fan of having a lot of harmony in my music, and that is Little Big Town. After hearing the band perform, Mark Haynes who isn't usually a country music fan announced that he was going to be getting Little Bigtown's and several of the other performers cd's.
The 10th Anniversary of Rivers and Spires closed out with a bang, just the way it should. The spring time festival has cemented its self into the heart of our community, setting the bar for all other community events. The Festival organizers meld 35 committees and over 600 volunteers into a wonderful festival for the citizens of Clarksville and the surrounding communities.
Lets thank these wonderful volunteers for another wonderful year at Rivers and Spires! I personally am looking forward to the next 10 years!
| | |
| --- | --- |
| Festival Manager | Doug Barber |
| Treasurer/Accounting | Allan Groves, Khandra Smalley |
| Production Mgr. | Theresa Harrington |
| Logistics | Steve Stroman, Jennifer Byard |
| Entertainment | Philip Mize, Stephen Coleman |
| Food/Commercial Vendors | Steve Stroman |
| Volunteers | Britney Campbell, Erinne Hester |
| Webmaster and Design | Adam Groves, Lorilee Rager |
| Marketing | Robin Burton, Wendy Welch |
| Video Production | Rick Goodwin |
| Artz Galore | Nellynn Henson |
| BrewFest | Cristina O. Allen, Teresa Miller |
| Children's Events |  Nancy Ankoviak |
| Children's Parade | Shirley Taylor, Lee Erwin |
| Clarksville's Got Talent | Scott Chase |
| Corvettes on the Cumberland | Bill Coke |
| Downtown Merchants | Melinda Shepard |
| Eagleoke | JT Daniels |
| Festival of Nations | Marlene Livesay |
| Grand Wine Party | Shela Williams |
| Green Zone | Jimmy Mann |
| Last Band Standing | Jared Mims |
| Mascot Mania | Sarah Kanervo |
| Memory Lane Cruisers | Bill Baggett |
| Military | Yvonne Pickering |
| Quilts on the Cumberland | Wanda Morrison, Jerry Church |
| River Queen/Teen Pageant | Nikki Loos Peterson, Nicole Aquino Lamm |
| Screaming Eagle Trails Exhibitors | Jessica Goldberg |
| Step Off Team Competition | Alphonse Prather |
| Teen Zone | Amanda Cherry,Erica Johnson, Kara Reid |
| The MarketPlace | Channel Lemon |
| School System Representatives | Kay Drew, Candy Johnson |
Videos
Lost Trailers
Katie McRae
Ragdoll
Photo Gallery