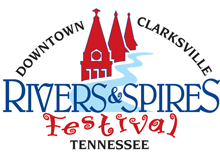 Clarksville, TN – Rivers and Spires Festival's award winning Quilts of the Cumberland event begins Thursday, April 20th at the Madison Street United Methodist Church at 5:00pm. There will be quilts of different shapes and sizes on display to the public.
The quilts will be on display all three days of Rivers and Spires, April 20th through the April 22nd. This exhibit gives people the chance to view a variety of quilts from traditional to one of a kind art quilts by local artisans.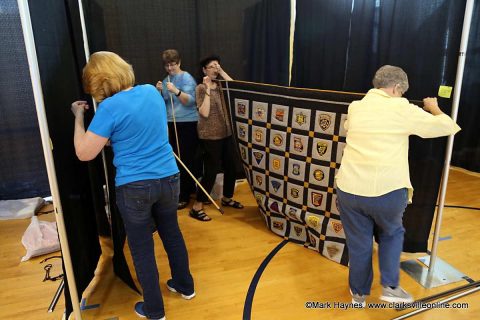 Quilting is a centuries old art form where the quilters use colors, shapes and their creativity to express themselves through the use of fabrics, various textiles and embellishments. Quilting is still a tradition in many households.
The 2014 Quilting in America survey found that there are 16 million active quilters in the country. Quilters in the United States spend a whopping $3.76 billion a year on their fiber art passion, a 5% increase in the value of the market over the last four years.
"I think quilting is a fun way to express art in the form of fabric and thread," Wanda Morrison said. "I hope everyone comes out and enjoys the quilt event."
People that come by and see the quilt exhibit will get the opportunity to vote for their favorite quilt for the Viewers Choice Award.
Quilt Categories:
Traditional Bed Quilt (max width 90?)
Non Traditional Bed Quilt (max width 90?)
Art/Wall Quilt (max width 90?)
Awards for each category are:
Best in Show – $200.00
Viewers Choice – Ribbon Award
First Place – $100.00
Second Place – $50.00
Third Place – Ribbon Award
Quilt and Sew at Golden Threads quilt shop in Trenton Kentucky is the sponsor of the Best of Show Award. The other sponsors are Happy Hearts Quilt Shop in Hopkinsville Kentucky and Absolutely Fun Sewing in Clarksville Tennessee.
"This is the last year of the Rivers and Spires Festival. I want to make sure everyone comes out to the festival and sees the show," stated Morrison.
Quilts of the Cumberland is open Thursday and Friday from 5:00pm – 8:00pm and Saturday from 10:00am – 6:00pm.
The Madison Street United Methodist Church is located at 319 Madison Street (use the Commerce Street Entrance).
About the Rivers and Spires Festival
The 15th annual Rivers and Spires Festival will be held April 20th-22nd, 2017 in Downtown Clarksville. This event has five stages of entertainment with over 100 entertainers performing all three days. From children's activities, arts & crafts, car shows, military exhibits, shopping and so much more this is truly an event for the whole family. Admission to the Festival is free including all games, activities and concerts.
For more information about Rivers and Spires, contact Lori Barnes at , Karyl Kirkland at or visit us at www.riversandspires.com.