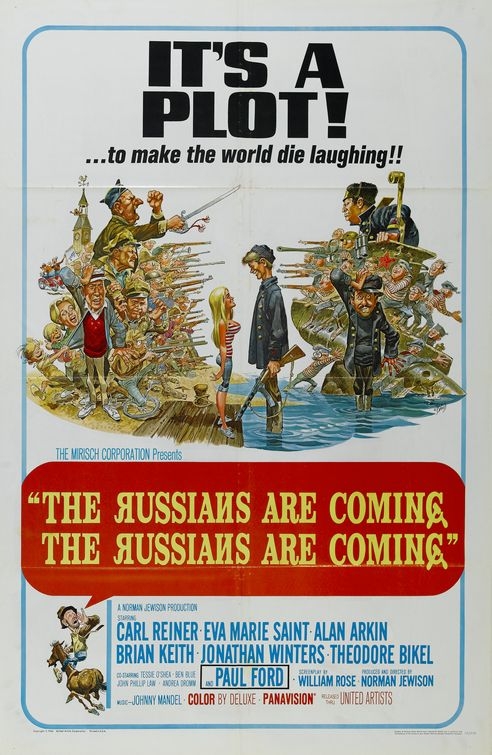 The Cold War was raging in 1966. That's when Alan Arkin's comic restraint was the fuel the fired the hilarity in the whacky comedy, The Russians Are Coming, The Russians Are Coming. It's a rollicking romp along the eastern shoreline when a Russian sub is stranded on cold war American soil.
The Russian captain is scared death, and he's not sure if it's of the Americans or of what will happen if his own superiors find out he grounded their sub. Carl Reiner is Walt Whittaker, all-American family man first convinced there's an invasion about to begin, then becoming an ally with his new found Russian visitor. Toss into the mix a light romance between young Russian sailor Alexie (John Philip Law) and Alison Palmer (Andrea Dromm), and supporting performances by Eva Marie Saint, Theodore Bikel and Brian Keith — each manifesting precise comic timing in this old-fashioned slapstick oceanfaring adventure. It's a got a message too, as exemplified in this tidbit of dialogue between the young couple:
Alexei Kolchin: "In Union of Soviet, when I am only young boy, many are saying, Americanski are bad people, they will attack Russia. So all mistrust American. But I think that I do not mistrust American… not really sinceriously. I wish not to hate… anybody!
[He throws a stone into the sea]
Alexei: This make good reason to you, Alison Palmer?
Alison Palmer: Well, of course it does. It doesn't make sense to hate people. It's such a waste of time.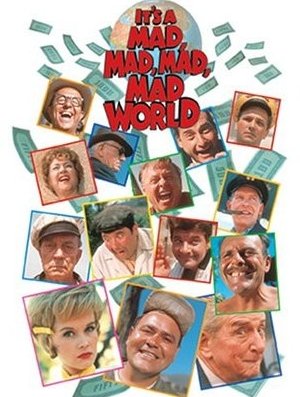 It's a Mad Mad Mad Mad World leads veteran actor Spencer Tracy into temptation. He a detective on the brink of retirement, a detective who for years has been chasing one big-time gangster with one big stash of stolen money. Greed rules. The crook bites the dust (literally) but first reveals his deathbed secret to passers-by who stop to rescue him. So begins the race to find a treasure that might change their lives. It does, but not quite how they imagined.
This is one of Hollywood's "if you put every star ever known into one film, everyone in the movie-going public will come." They did, and they did. Emphasis on comic superstars. Milton Berle gets to float downstream in his vintage convertivle. Ethel merman gets puts the full brassy range of her voice to work as the nagging mother-in-law, Jonathan Winters and Buddy Hackett fly high and low in a race against time, Mickey Rooney, Sid Ceasar and a cast of the best of a generation try to stay one step ahead of the law (Tracy) and each other.
George Clooney did again, the original 1960s Ocean's Eleven was the famed Vegas rat pack, the real life buddies also known as Frank Sinatra, Dean Martin, Sammy Davis Jr, et all. It was old Vegas, before the grandeur MGM and the Bellagio and the Venetian. It was a times of jazz big bands and smaller combos, cigarettes for every mood and level of stress, a drink in every room and a plot to releive five casinos of millions in one fell swoop. It was a slick, low key film with the mandatory songs showcasing rat pack talent and a a whistling, humming theme song E-O-Eleven. Sinatra was Danny Ocean, who looked at theft as a military operation: "Why waste those cute little tricks that the Army taught us just because it's sort of peaceful now." Grand Theft Vegas was proof that even the best laid plans can go awry. And as with most good, fun films, the original is still the best, and proof positive that good movies existed long before slick computer-generated special effect came along.
If you like these films, you may want to revisit (or visit for the first time) these other classic comedies:
The Great Race
A Funny Thing Happened On The Way To The Forum
Those Magnificent Men In Their Flying Machines
Drive-In Saturday Night appears weekly on Fridays through Labor Day to celebrate the vintage movies shown in drive-in theaters and at Saturday matinees, the best and worst of movies that we've known and loved anyway.