It's not quite the kind of drive-in theater that many of us remember, the ones with the oversized white screens reaching into the night sky, with awkward oversized sound boxes but Nashville's Belcourt Theater gets credit for innovation and imagination as they present the best and worst of old-time sci-fi — outdoors on the wall of the theater. Heat notwithstanding, the action begins at sundown. In the parking lot. Bring your lawn chairs and blankets. Admission is FREE. Refreshments will be available at concession stands outdoors.
In a slight change of pace, we're advocating stepping out for some old-fashioned sci fi instead of sitting at home with a pile of videos.
Saturday's screening is Ghidrah, the Three-Headed Monster, who takes on Godzilla, Mothra and Rodan, and introduces King Ghidora, a very Asian space dragon. It's one of the few times Godzilla actually help Japan instead of annihilating it.
This 1964 film was the fifth Godzilla film. As the plot goes, a princess from Selgina in the Himalayas is possessed by a Venutian spirit (Martian in the American version) and escapes from an exploding plane just as a meteorite containing the monster Ghidorah destroys her planet. On battlefield earth, Godzilla and Rodan emerge to attack japan and each other. Mothra enters the fray, convincing the earthbound enemies to unite and fight the dreaded Ghidorah.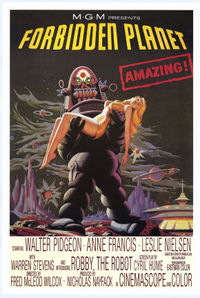 The series continues on September 8th with the classic Forbidden Planet (1956), and with Steven Spielberg's 1984 megahit ET: The Extra Terrestrial, only"newbie" in the bunch.
Set in 2020, Forbidden Planet introduces us to Dr. Morbius, Robby the Robot, and Morbius' uninhibited and scantily clad daughter, Altaira. It's the first film that has earthlings building a flying saucer to travel to another planet, and it draws on a strategy used very successful by sci-fi pioneers and mystery filmmakers like Hitchcock: our biggest fears are those that spring from our own minds.
ET, of course, is every child's (and adult child's) fantasy of finding a frien, finding love and loyalty, and most of all, reclaiming a sense of adventure and the ability to dream.
According to a Belcourt spokesman, each of these are original 16mm film prints, and not DVDs. There will also be fun shorts and commercials from the 50s'-80s showing before and after the films,. Following each sci-fi film will be a surprise episode of an old Nashville cop show long lost since the 70's with Claude Akins & Jerry Reed as Metro's finest and featuring the city of Nashville in the 1970's and a different classic country star each week. Movie fans who come for the Sci-fi can stay for this series, which was cancelled after only five episodes.
The screenings will take place in the Belcourt's parking lot so feel free to weather the dog days of summer, bring your chair or blanket and enjoy these classic films they way they were made to be seen on the Big Belcourt Wall outside at sundown. The Belcourt is located at 2102 Belcourt Avenue in downtown Nashville. For more information, call 615-383-9140.
Drive-In Saturday Night runs every Friday through Labor Day, taking a look back at the fun and fantasy of yesterday's sci-fi classics.