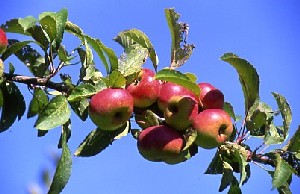 One of the highlights of the northeast that is my home and heritage are the markets. So whenever I am On the Road in America and that road is in the northeast, I invariably make at least one stop in favored places. I have my northeastern favorites, along with shoppers cards from three states, and they are far removed from Walmart's molded plastic packaging and asparagus left to dry out on its side on a shelf. Yes, I am thinking of the specialty markets, fueled by local produce and seasonal supply. And the anticipation that carries through the winter season in between.
From early May through October, roadside stands are a dime a dozen, lining highways inside the city limits and just beyond, places where home gardeners and small farmers offer seedlings in spring, the first fruits of summer (strawberries in June), mouth-watering springtime asparagus of the pick-your-own category or buy it bundled (always, always store it standing in water, and don't buy it if it isn't), fresh butter and sugar corn from mid-July on, peppers, cucumbers, zucchini, yellow squash, Brussel sprouts…
 Veggies, fruits, and all things fresh and pure…
But there are market stores as well, stores that run year round, import the best and the freshest when nature buries New England farms in snow and ice. Here one wanders through with little brown recyclable bags, scooping up these delights on a day-to-day basis.
And then there are the apples …
Atkins is such a marketplace: an evolving "fruit stand"that began as the place to pick apples by the bushel every fall. We all know the drill. Pick two or three, eat one, pick a few more, eat another one, fresh off the tree. I have photos of my grandchildren hanging off the Atkins trees. I have a rare picture of my grandmother and a Model T parked at the edge of an orchard, not too far from our family farm on Bay Road in Amherst, Massachusetts.
Atkins Farm was founded in 1887, one year after my late grandmother was born in Canada. The first building was erected in the 1950s, for the walloping sum of $8000. It evolves with the times, up to an including a website and mail order shopping. It's grown a long way from its humble beginnings, and yet its niche is firmly entrenched in an old style of business that begins with good products, and continues with fine customer service.
Atkins expanded over the years, growing into the "market" and bake shop that has become its own industry without sacrificing its charm.
The fruits and vegetables are not the same: they are better, and there are more of them. Russet and Superior potatoes by the bushel, exotic potatoes too. Fifty pound bags of onions and carrots. Basketball-sized cabbages and ample Savoy cabbages, both ideal for golumpki (stuffed cabbage). My mouth waters.
I circle the shop, salivating, and settle on two pounds of yellow beans, long six to eight-inch creamy yellow stalks. Destined for cooking with a sliver or two of salt pork. Destined for serving with more than one dollop of sweet salted butter. That's just my share of the bounty, I tell myself; you can't by these, and certainly not that quality, in my part of Tennessee. Thus, I will heartily indulge while I can. And I do.
Atkins is more than a market; it is a destination. Locals know it and love it. Visitors find it listed at travelers centers and in tourist information sites. They come to see it year-round, but especially in fall when the surrounding Pioneer Valley landscape is ablaze with autumn color, when the brilliant orange pumpkins and golden cornstalks are stacked high and children bundled in sweaters scurry about looking for the best ones to carve. Pie makers seek out the smaller, sweet sugar pumpkins for pies or for stuffing with spicy meat stuffing — the kind used in French meat pie and French meat stuffing.
Visitors come for the bakery too, for the specialty cakes and pies, and Danish made without the sickly white icing, glazed instead with a glistening honey/sugar drizzle. They come for the cider donuts and spiced cider drinks, clustering in the small dining area. Families with clambering children, senior citizens on an outing, travelers in need of respite. Pull in, sample some coffee, and never, ever leave without a spiced cider donut, a thick cake-like donut that is not the air-whipped puffed-up sugar high but a weighty donut of substance redolent with cinnamon, nutmeg and sugar.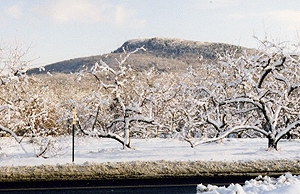 I wandered through Atkins and when I remembered, I snapped some pictures. Not that I need them in my mind.
I browse the growing gift section, noting again the unique choices made by the owners: this time the featured gifts were serving dishes,accesories and ceramic pie plates in brilliant blues, intricate slavic patterns made in Poland. I think we've found the perfect gift for your sister, I told my friend as I balanced the plates in my hand, marveling at the precision of its wavy edges and meticulous art work.
Now, Atkins isn't the only market I favor: Whole Foods in Hadley, Massachusetts (formerly Bread and Circus), is high up on the list, as is GreenFields Co-Op Market in Greenfield, Massachusetts, and Brattleboro Co-op in Brattleboro, Vermont.
But I have a history with Atkins; it is part of the social structure of my past. I have made it such for my grandchildren as well.
For more information, log onto http://www.atkinsfarms.com