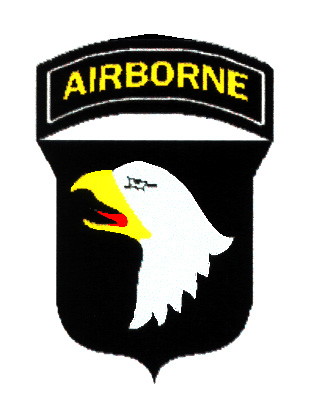 Following approval by the State of Tennessee last summer and special action by the Association Board of Governors in November, vehicle owners/lessees in the Volunteer state may soon have the opportunity to acquire a specialty license plate honoring the 101st Airborne Division (Air Assault).
Before Tennessee begins production of the plates, the 101st Airborne Division Association, with its headquarters located on the Tennessee side of Fort Campbell, must pre-sell 1,000 of them at $35 each (additional registration fees apply). If the Association fails to reach the 1,000 pre-sale minimum requirement, all purchase amounts will be returned.
L-R Representative Curtis Johnson, 101st Airborne Division Association Secretary/Treasurer Sam Bass and Representative Rosalind Kurita stand outside the Clarksville, TN Courthouse with the newly designed 101st license plate.

Photo by 101st Association Graphic Designer, Catie Rodriquez
Net proceeds from the sale of the plates will be allocated 50% to the 101st Airborne Association; 40% to the Tennessee Arts Commission; and 10% to the State Highway Fund. Sales are restricted by the legislation to registered vehicle owners of Tennessee. «Read the rest of this article»
Working of the premise that knowledge is power, the Latino Commission on AIDS is sponsoring a free education and information program on HIV/AIDS on Saturday, April 26th, at The Eternal Rock, 812 Tiny Town Road, Clarksville, from 9 a.m. to 3 p.m.
Everyone should have the opportunity to get educated about HIV/AIDS. With knowledge, the community is empowered to protect themselves and their love ones against HIV. The public is invited to come and learn how to protect yourself and love ones against this terrible illness that is affecting our communities, and learn about the resources that are available, for "with wisdom comes power." With this knowledge, we can empower ourselves to get into care and treatment for ourselves and our love ones.
The program will offer information on HIV/AIDS is, HIV/AIDS awareness, how HIV is spread, an explanation of HIV symptoms, and diagnosing AIDS. The program will also provide counseling and education and HIV/AIDS testing. Refreshments will be served over the course of the event.
For further information, contact Elizabeth Veldez Adamski at 931.249.5330 or Yvette McCutchen at 931. 920.7234.

It has been a very busy month for Clarksville Team Obama a local grass roots organization of supporters of Senator Barack Obama for President of the United States of America. Having recently wrapped up a successful three week voter registration drive campaign in Hopkinsville Kentucky, where citizens will be holding their presidential primary very soon, and after just participating in the National Nation for Change Rallies, Clarksville Team Obama will have phone banking rallies on the following dates to help rejuvenate voters in the remaining primary states.
Saturday April 26 from 11 a.m. – 9 p.m.
Sunday April 27th from 3 p.m. – 8 p.m.
Saturday May 3rd from 11 a.m. – 9 p.m.
Sunday May 4th from 3 p.m. – 8 p.m.
The Call Center Location will be the New York Pizza Depot (NYPD) Restaurant, 3297 Fort Campbell Bvld.(across from Gate 3 of Fort Campbell Military Post). We invite all members of the public to volunteer your time to make phone calls for Senator Barack Obama at this event! Clarksville Team Obama holds weekly meetings every Thursday evening at The New York Pizza Depot (NYPD) 7:00 p.m. Visit our Websites for on going updates! www.myspace.com/clarksvilleforobama. To get involved please contact Bernice Benbow at