Your next problem(s):
You want to celebrate the Obama election.
You want to celebrate the Obama election with like-minded folks.
You want to be happy (for a change, due to the Obama election).
You want to eat a Frito pie (vegetarian available).
You want to know what a Frito pie is.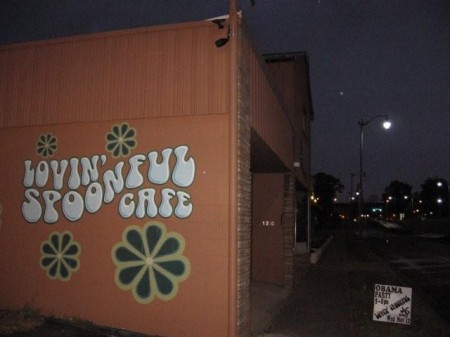 We're all a little giddy after the election so I'm giving you the solution to your problems:
On  Wednesday, Nov 12, between 5 and 8 p.m., go to the Lovin' Spoonful Café at 128 University Ave.  (a stone's throw from the college). For $6 you can eat hearty fare and have a good time with other Obama fans.
Yes it's time to celebrate.
Never before have we had such an election and need for one.  We have a lot of positive change to look forward to.  And a lot of just plain breathing to do that is not interrupted by the buzz of constant wire tappings, or the twitching of our muscles when we think about the torture that has been going on in our name, or the grinding of our teeth as we think about the out-of-control war and cost of it —  in both human and monetary terms, or the wheeze of the planet outside the window, or the interrupting growling sound of USA bullies who have been fed and nurtured to Godzilla proportions, or the bothersome tick that comes when thinking about what other countries think about us.
So breathing without those and other distractions is in order.  Because we have hope like we've never had it before.  And what better place to relax, breathe, laugh, eat and celebrate together than Lovin' Spoonful. Come over between 5 and 8 p.m. to get in on the fun.  Open to all ages.  $6 will get you a Frito Pie and a drink.