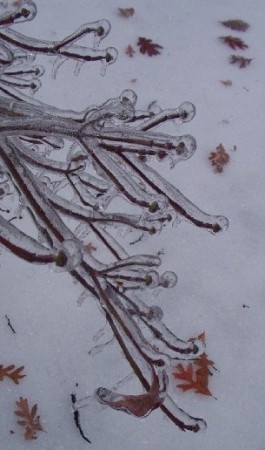 A week before the official change of seasons, winter will make itself known in Clarksville and across northern middle and west Tennessee in the form of an ice storm set to pummel the city with up to a half inch of ice later today and overnight into Tuesday morning, according to the National Weather Service in Nashville.
After Sunday's balmy, breezy 50s, literally the calm before the storm, the NWS has issued both an ice storm and  hazardous weather warnings for the area as a cold front is poised to sweep through the mid state toda, plummeting temperatures and setting the stage for today's drizzle and rain to freeze on contact with trees, roads and bridges, creating dangerous travel conditions.
"By late tonight, ice accumulations may reach 1/4 to 1/2 inch…the freezing rain is expect to last through Tuesday morning." — National Weather Service
NWS weather spotters and emergency management officials are encouraged to report ice accumalations to the weather service in Nashville.
You can view the radar map of this storm on Intellicast.