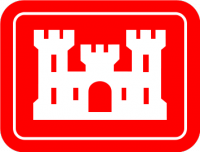 Although touted for months as being ready to go, the Clarksville Marina Development Project is still at a substantial standstill. In August it was announced that Fairgrounds Park would be closing in January to facilitate the beginning of dredging operations for the marina's construction. That is not going to happen just yet.
Clarksville Online has learned that the US Army Corps of Engineers, [USACOE], has not issued the City of Clarksville a permit for dredging operations at the Fairgrounds. Without that permit, no dredging action can take place. The corps received the city's Clarksville Fairgrounds Marina Application in late November, but it was lacking required information. The permit process is presently on hold. The USACOE expects to receive that information and issue a public notice within the next few months. This will mark the beginning of the process to obtain the dredging permit that will signal the start of construction for the marina.

As outlined in the marina/fairgrounds redevelopment plan resolution approved by the Clarksville City Council at its December 1st Special Session meeting, the city will fund the dredging of the land, install utilities and upgrade road access to the marina development. A private business enterprise will develop the actual marina and its operations.
In November, Mayor Johnny E. Piper unveiled a new addition to the marina layout with the inclusion of a water park added to the other listed amenities of a pavilion, three sports fields, a dog park and arboretum already proposed for the marina complex. There is also a proposal for waterfront condominiums as well. With the addition of the water park, the price tag for the marina project escalated to $32 million dollars. It was proposed that the city leverage three existing loans for an additional twenty-five years, via the Tennessee Municipal Bond Fund, to gain the funds to pay for the marina project.
The marina is the most ambitious development project to have been proposed for Clarksville in quite some time, if not its entire history. Proper planning and execution will be crucial to its success. As taxpayer money is involved in this joint public/private enterprise, the public has a right to be kept informed of the progress made at every juncture of this project. That includes every delay as well. We've been saddled with a $32 million dollar debt stake in this project and openness of the process is essential to public trust.